Chargers Draft
LA Chargers: Redrafting all of Tom Telesco's first-round picks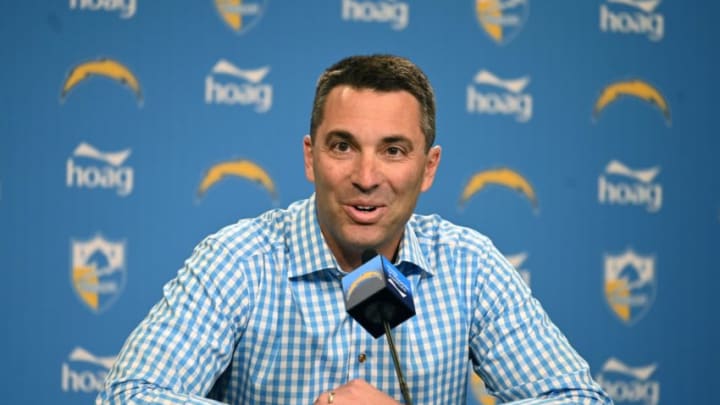 Apr 22, 2019; Costa Mesa, CA, USA; Los Angeles Chargers general manager Tom Telesco at a press conference prior to the 2019 NFL Draft. Mandatory Credit: Kirby Lee-USA TODAY Sports /
(Photo by Andy Lyons/Getty Images) – LA Chargers /
In the 2015 NFL redraft, the LA Chargers select Marcus Peters
The LA Chargers needed a running back heading into the 2015 NFL Draft and got the second-best prospect in Melvin Gordon. While Gordon was really good with the Chargers, it is terrible value to draft a running back in the first 20 picks of the NFL Draft.
Unless you get Hall of Fame-level production, it simply is not worth it to take a running back that early in the draft. Their careers are far too short to justify that high of draft capital. Plus, the Chargers would get an extra pick back as they would not have traded up for Gordon.
Instead, the Bolts could have stayed put and drafted cornerback Marcus Peters, who was selected with the 18th overall pick by the Kansas City Chiefs. In this alternate reality, the Chargers did not pick Verrett in 2014, so they fill a cornerback need with Peters in 2015.
Peters is a two-time First-Team All-Pro and a three-time Pro Bowler. He was instantly one of the best corners in the league, being named a Pro Bowler in his first two seasons and an All-Pro in his second season.
He had a bit of a down portion of his career in his last year with the Chiefs and with the Los Angeles Rams but has re-found his form in Baltimore. He was named an All-Pro in 2019 after playing exceptionally after being traded and was solid again in 2021, albeit without a Pro Bowl nod.