Chargers Draft
LA Chargers: Redrafting all of Tom Telesco's first-round picks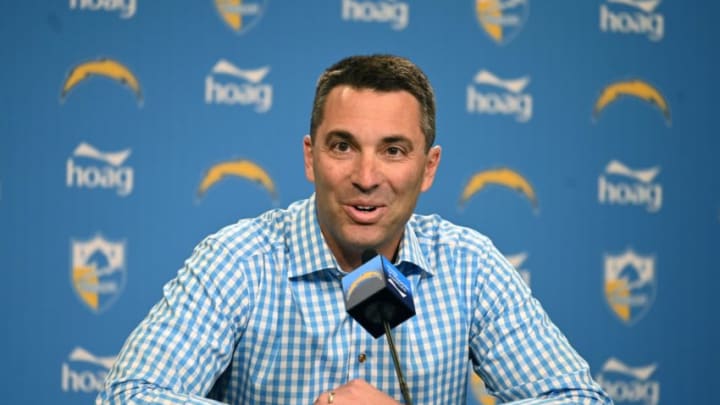 Apr 22, 2019; Costa Mesa, CA, USA; Los Angeles Chargers general manager Tom Telesco at a press conference prior to the 2019 NFL Draft. Mandatory Credit: Kirby Lee-USA TODAY Sports /
(Photo by Katelyn Mulcahy/Getty Images) – LA Chargers /
No general manager is perfect and LA Chargers GM Tom Telesco has definitely had his fair share of hits and misses in the NFL Draft. For the most part, Telesco's mid-to-late rounds leave more to be desired but he has also hit some home runs in the first round as well.
Personally, I do think Telesco's draft resume is a bit overrated as the first-round picks that he hit a home run on essentially fell in his lap. The Chargers were going to pick a quarterback no matter what in the 2020 NFL Draft and Justin Herbert became a Charger because Miami passed on him.
But we also get the benefit of hindsight. Using said hindsight, we can redraft each of Telesco's first-round picks in order to create the best Chargers team possible. But there is one important ground rule: players had to be selected within 32 picks of the Chargers' first-round pick.
We are not going to say that Telesco should have drafted Antonio Brown in the first round. That is simply unrealistic.
Tom Telesco's first-round picks that stay on the LA Chargers:
Justin Herbert
This one is obvious. Justin Herbert, thus far, is the best quarterback from the 2020 NFL Draft and even if I had the chance to, I would not take Joe Burrow or Tua Tagovailoa over him.
Mike Williams:
This sounds crazy, but let me explain. If a team picks a wide receiver with the seventh overall pick then they better hope to get at least Pro Bowl numbers out of said wide receiver. The Chargers have only gotten one such year from Williams.
It is easy to view the Williams selection as bad value, but I don't see who the Chargers could draft instead of him. Sure, Patrick Mahomes is there, but he would have sat for two years under Philip Rivers and who knows if he would have been the same. I am just fine with Justin Herbert.
The team really needed another outside receiver and there are no better options within 32 picks. There are some marginally better options that the Chargers could have taken later in the draft, but I am fine with Williams.
It goes against what I usually say about wide receivers but I would not change the Williams pick.
Derwin James:
Derwin James is injury-prone. There is no way around it. If he does not get healthy after this latest injury then he is just going to be Jason Verrett 2.0. However, James is so dang good that I have to keep him on the LA Chargers and just hope these two years are an anomaly like Keenan Allen.
Joey Bosa:
There are some compelling players that the LA Chargers could have taken over Joey Bosa. Jaylen Ramsey and Ronnie Staley are both compelling options. However, despite some injuries over the year, Bosa is still the pick as one of the best edge rushers in the league.