LA Chargers News
McCoy or Whisenhunt to run the Chargers offense?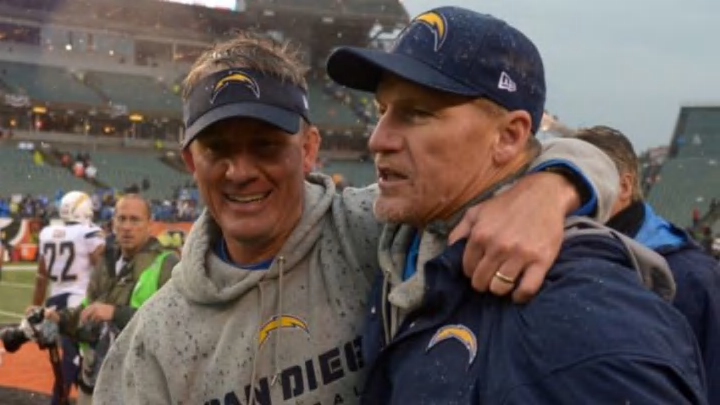 Jan 5, 2014; Cincinnati, OH, USA; San Diego Chargers coach Mike McCoy (left) embraces offensive coordinator Ken Whisenhunt after the 2013 AFC wild card playoff football game against the Cincinnati Bengals at Paul Brown Stadium. Mandatory Credit: Kirby Lee-USA TODAY Sports
It seems like the candidates to run the San Diego Chargers offense next season will come down to head coach Mike McCoy or former San Diego Chargers offensive coordinator Ken Whisenhunt. Since the Chargers seem to be doing anything that I hate recently, they will likely be choosing McCoy to run the offense.
More from LA Chargers News
McCoy was the offensive coordinator for the Denver Broncos offense before he was hired by the Chargers. Since the team seems to have kept John Pagano around for another season it gives McCoy even more reason to take more responsibility on the offense. He trusts Pagano to make the playcalls on defense and can now take control on the offensive side of the ball and get this thing running in the right direction.
Hopefully running will be a priority for McCoy in the offense as the coordinator. While he was in Denver, he dealt with the transition of coaching Tim Tebow and that offense and running was the priority. He leaned on his backs  to move the football down the field and dialed up a pass play from time to time to keep the defense honest. As the coordinator for Denver, he adapted to the roster that he was given and it was something that we expected as he became the head coach for the Chargers.
We have not seen that from the offense in the Chargers with Frank Reich calling the plays. Mike McCoy might bring that in as the playcaller, but we have yet to see it happen. McCoy's first task will be to get Melvin Gordon some running lanes. If he can open up the running game, then this whole offense should be able to wake up.
Whisenhunt is the safe choice here. He has more experience as a playcaller and has already developed a good relationship with Philip Rivers. He showed that he can get the running game  rolling with Ryan Mathews during the season that he ran the offense. Whisenhunt has taken teams to the Super Bowl and has won the Super Bowl as an offensive coordinator. He has that pedigree that we would love to see and if Mike McCoy takes a bad step during the season he would be an option to run the whole team as the head coach.
Does Mike McCoy want his potential replacement on the coaching staff? Likely not! I will be expecting McCoy to take control of the offense this year and we will see what type of results he brings to the field.
Who do you think will be running this offense?