Should Chargers bring in Philip Rivers if Justin Herbert's injury is serious?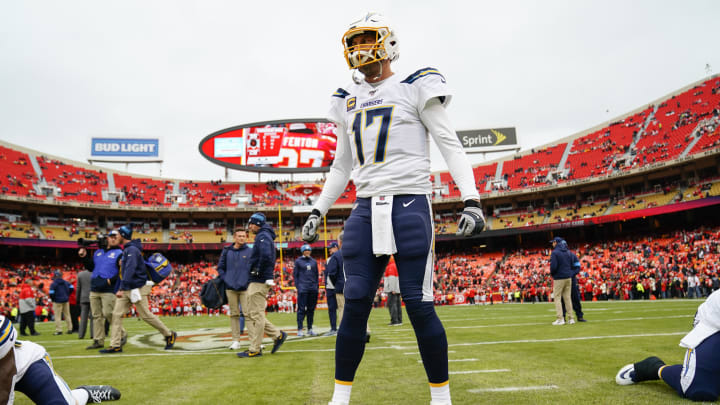 Los Angeles Chargers v Kansas City Chiefs / Cooper Neill/GettyImages
The LA Chargers fell 24-27 to the Kansas City Chiefs on Thursday Night Football and the loss was painful for a variety of reasons. Not only was this a classic Chargers loss where the Bolts were the better team throughout, but Justin Herbert suffered a concerning rib injury as well.
Herbert gutted it out and was able to make this a three-point game, earning the praise of football fans on social media. The star quarterback was taken in for x-rays after the game. The severity of the injury is currently unclear.
The Chargers have 10 days until they have to play the Jacksonville Jaguars but there are concerns among the fanbase that Herbert can't play. It is a shame, too, considering this is the easiest stretch of the Chargers' schedule coming up and the team needs to capitalize on it with three wins.
Los Angeles is not winning games with Chase Daniel at quarterback regardless of how bad the opponents are. That has left fans on social media to ponder what emergency options there could be and there is one common name that is coming up: Philip Rivers.
Is Philip Rivers a viable emergency option for the Chargers if Justin Herbert has to miss time?
While it would make a really, really cool story, the answer is unfortunately no. It does not make a lot of sense for Philip Rivers to return to the Chargers when this injury for Herbert does not even seem to be that serious.
The absolute worst-case scenario for Herbert would likely mean him missing two or three games and even that might be a stretch. It is hard to see Rivers, who is coaching high school football, coming back for 2-3 games in September.
If this was a season-ending situation then that would make more sense. If it was a situation where this happened in Week 17 and the Chargers were going to make the playoffs it would make sense. At this point in the season, with the type of injury it is, it is very doubtful.
Don't get me wrong: Rivers would be a far better option than Chase Daniel but I just don't see how the team would be able to convince Rivers to sign up for this. The much more likely outcome is Herbert gutting it out and playing in Week 3.
MUST-SEE: Refs gift-wrap a key touchdown to the Chiefs
And if not... fans better get used to the idea of Chase Daniel at quarterback. Or maybe even Easton Stick, you know, the guy that they drafted and kept on the roster for no apparent reason.