LA Chargers News
The arrival of Felipe Rios and the Electric Kids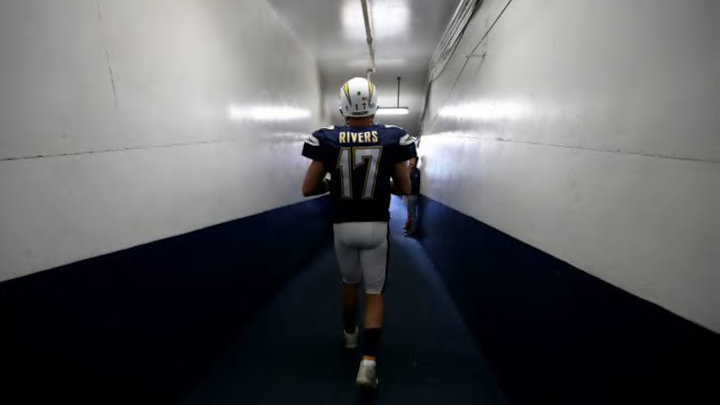 SAN DIEGO, CA - JANUARY 01: Philip Rivers
Challengers be wary because there is a new gunslinger in town. Felipe Rios has come to Los Angeles and he is joined by a group of kids that are ready to impose their will on the NFL.
You may be quickly trying to dismiss what I said. You may feel there is no need to worry about this guy. Perhaps he is an old, washed up gunslinger. Maybe his reactions have slowed. Maybe he is missing that competitive edge. You would be foolish to think such things. Time has only made this veteran wiser and the look in his eye is as sharp as ever. Trust this reporter, Felipe Rios will be firing in the streets with an uncanny accuracy. And time has only strengthened his resolve to bring victories to his new home town.
Now what about his posse? Who are these Electric Kids? You would be a fool to overlook his sidekicks. Gordano, K'nan, Antonio and Jose Bosa are the most famous and you should at all times keep your eyes on them, but that is where the real problem for challengers will begin. It feels like you have too many angles to watch and when your focus is on these guys how will you watch Jason Berretta, Haymaker, T-Will, B-Jamin and the one they call Hunter. This reporter won't lie, he got chills running up his spine just thinking about this.
More from Bolt Beat
And there is one more thing. Rumor has it that there is a new boss calling the shots, Antonio Lin. Not much is known about him but it has been said that he is much tougher than the old boss. He is a no-nonsense guy that has his eyes set on victory. There will be no let up. There will be no taking it easy. This boss only wants to see his foes crushed.
Oh challengers I feel for you. I would not want to walk onto a dusty street to face this posse. My advice for you is to run. Run as fast as you can and far away. You would be foolish to challenge
Rios and the Electric Kids. Do not listen to the so-called experts that tell you his gang is brittle or the ones that tell you that the protection for Felipe is weak. Those are only foolish whispers.
Bolt Up LA! The time is now