Joe Burrow might end up smoking a cigar at Justin Herbert's locker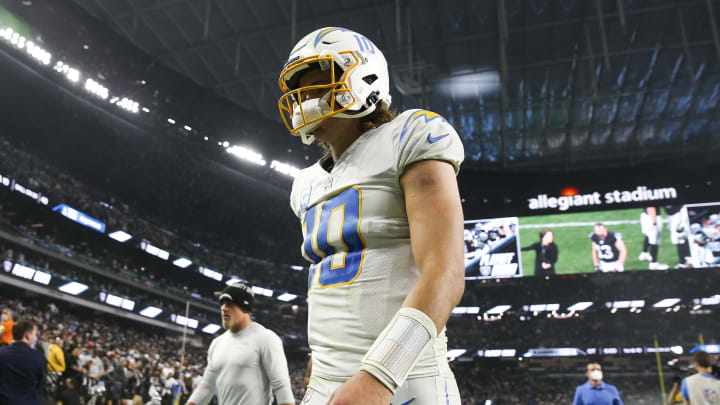 Los Angeles Chargers v Las Vegas Raiders / Steve Marcus/GettyImages
Justin Herbert and Joe Burrow are going to be tied together for the rest of their respective careers. Drafted in the same year, both Herbert and Burrow are already established top-10 quarterbacks (at worse) and represent a new era of quarterback play.
Justin Herbert has been better throughout his career at every point than Joe Burrow... numbers-wise. Herbert burst onto the scene, had the greatest rookie season in NFL history and then had the best season in Chargers franchise history in year two. It is hard to deny the numbers.
However, at the end of the day, Joe Burrow still has the (current) bragging rights as his team is playing in the Super Bowl in just his second season. Even if he had the easiest strength of schedule in the AFC and has been bailed out by his defense in the playoffs, Burrow has been good enough to lead the Bengals to the Super Bowl.
Would Justin Herbert have led this Bengals team to the Super Bowl with how the defense has played in the playoffs? Absolutely, but that is besides the point.
Because of these comparisons, there has been a bit of a fandom rivalry brewing between Charger and Bengal fans. Personally, I do think it is a bit extreme to get upset about Burrow making the Super Bowl just because Herbert is not there but I cannot blame any fan for being upset at any pundit who has dragged Herbert down just to elevate Burrow.
Those fans that didn't want to see Burrow in the big game are going to be even more frustrated if the Bengals end up beating the Los Angeles Rams at SoFi Stadium.
Because if so, Joe Burrow will get to smoke a cigar AT Justin Herbert's locker.
While the Bengals are technically the home team in this game, the Rams are playing at their home stadium and are not going to be asked to move locker rooms. The Rams are going to get to play in their locker room while the Bengals are going to operate from the Chargers locker room.
You see where I am going with this.
There is a reality in which the Bengals defeat the Rams, Joe Burrow gets all his roses as being the future of the NFL and then he goes into the locker room, celebrates with champagne and lights up one of his signature cigars to smoke it right in front of where Justin Herbert suits up on gameday.
It doesn't really matter when it comes down to the legacy of these two quarterbacks but Bengal fans will always get to say that Burrow won a playoff game (the Super Bowl nonetheless) in Justin Herbert's locker room before Herbert could even make the playoffs.
MUST-READ: Ranking Justin Herbert and all 32 starting quarterbacks
That does sting a bit. I would say that Justin Herbert could get revenge and win a Super Bowl in Joe Burrow's locker room, but c'mon now, the Super Bowl is not going to go to Cincinnati of all places.