LA Chargers News
LA Chargers weather report vs. Cincinnati Bengals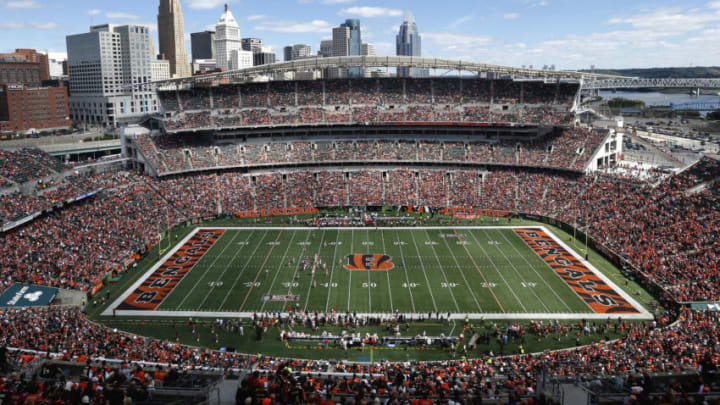 (Photo by Joe Robbins/Getty Images) /
Weather is going to play a huge component for the LA Chargers on the road in 2020.
The LA Chargers have to wait to play their first home game at the brand new SoFi Stadium and instead are opening the season against the Cincinnati Bengals at Paul Brown Stadium. Weather is no longer a factor for the Chargers at home (let's be honest, its Southern California, it rarely was anyways) but it will be a factor on the road.
Those that take a quick glance at the weather report for the weekend might be concerned as rain is forecasted in the Cincinnati area on Sunday. However, everything should be clear by the time the Chargers and Bengals kick-off.
The game is kicking off at 4:05 p.m. local time (1:05 p.m. PDT). According to Accuweather, the rain is expected to clear up at 8 a.m. The field is going to get plenty of rainfall overnight, as showers are expected intermittently from 2 a.m. to 8 a.m.
The high for the day, 83 degrees Fahrenheit, is expected right at kick-off at 4:00 p.m. The entire game will be played in the low 80s and high 70s, with the temperature, forecasted to stay above 76 degrees Fahrenheit until 7 p.m.
Is there still a chance that the LA Chargers see rain?
There is a possibility, although it seems unlikely. There is a 32 percent chance of precipitation at kick-off which drops to 23 percent by 7 p.m. It is going to be a cloudy day and there may be some light rainfall that sprinkles in here and there, but nothing that has an adverse effect on the Chargers.
It is going to be rather humid, 55 percent humidity, but it is nothing that the Chargers are not used to by practicing in Costa Mesa. The winds are forecasted to be rather tame, with wind gusts expected to reach no more than eight miles per hour during the game.
Teams either drive in the northeast or southwest direction, so there will be a small kicking advantage to the team that is driving towards the Ohio River (which is the direction of the scoreboard).
It sounds like a perfect day for the return of NFL football and fans can be assured that the weather at Paul Brown Stadium is not going to have any adverse effects on the LA Chargers on Sunday. The team does not even have to worry about that in Weeks 2 and 3, as both games will be played at SoFi Stadium.