Chargers get help through addition and subtraction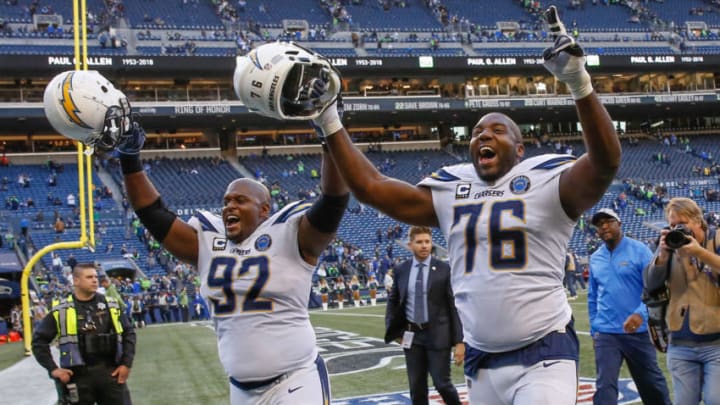 SEATTLE, WA - NOVEMBER 04: Brandon Mebane #92 and Russell Okung #76 of the Los Angeles Chargers head off the field following the game against the Seattle Seahawks at CenturyLink Field on November 4, 2018 in Seattle, Washington. (Photo by Otto Greule Jr/Getty Images) /
The Chargers got surprising news on offense, and some would say both the addition and the subtraction of players are a huge positive for this team.
Let's not waste time: The Chargers just got back their Pro-Bowl left tackle Russell Okung, and have placed wide receiver Travis Benjamin on injured reserve.
First up, the return of Okung. It's fantastic. The team was projected to be without him for much longer, but his return in Week 7 is way faster than expected. And it couldn't come at a better time, as the Chargers travel to play the Chicago Bears the following week.
Ian Rapoport states the left tackle could play as early this week, with Okung himself confirming he'll be back. The Chargers don't necessarily need him this week, but having him return to practice and get ready for Khalil Mack the following week is the most important.
As if that news wasn't surprising enough, the Chargers moved a certain receiver to injured reserve:
#Chargers place WR Travis Benjamin (quad) on IR.
— Daniel Popper (@danielrpopper) October 17, 2019
Personally, this feels like the Chargers making the necessary move to get an unproductive and frankly useless receiver out of their offense. Benjamin had been dealing with injuries throughout the year, so it is possible they are shutting him down due to health reasons. But I can't help but think this is also incredibly convenient.
Hunter Henry's return to the lineup was enormous for this offense, but having No. 76 back out there to protect Rivers is the one of the two biggest returns from "injury" for the Chargers; the second, in a few weeks, should be Derwin James. Let's see how the team responds to their Vibranium-clad offensive tackle returning to the starting unit.