Chargers: Forrest Lamp impeded by surprise circumstances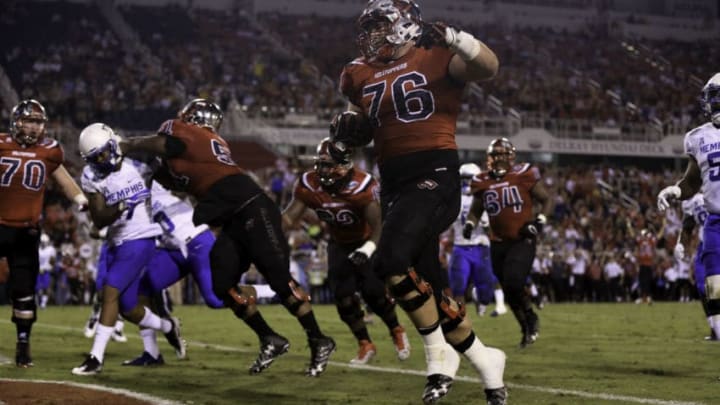 BOCA RATON, FL - DECEMBER 20: Forrest Lamp #76 of the Western Kentucky Hilltoppers scores a touchdown during the first half of the game against the Memphis Tigers at FAU Stadium on December 20, 2016 in Boca Raton, Florida. (Photo by Rob Foldy/Getty Images) /
Fans have been dying to see Chargers second-round selection Forrest Lamp start on offense, but he's been incredibly unlucky thus far.
The Chargers looked to bolster their offensive line with the selection of Forrest Lamp in the second round of the 2017 NFL Draft, a player acquisition praised as being both high in value and safe in potential. Lamp was pegged the starter from the outset, and looked to be in for a solid career as the team's guard.
Flash forward to the second week of the 2019 season, and Lamp has taken just four snaps in two games, and has not started a game in any of his first three seasons. What happened?
Initially, as is well-known by now, it was the ACL injury. 2017 was a wash, and Lamp would surely put himself back in the starting lineup in 2018. It was a surprise the Chargers didn't anticipate, and it wouldn't be the last.
Then, trying to play again in 2018, Lamp found himself unable to make it back healthy in time for the season opener, and both Dan Feeney and Michael Schofield were deemed the two starting guards. The problem for Lamp: Schofield ended up being a solid starter, and the line in general was partially responsible for Melvin Gordon's highest yards per carry average and Philip Rivers' highest quarterback rating of his career (tied with two other years, go figure). Though it would be there demise in the end, the line was serviceable enough to delay Lamp's return.
So where does Lamp fit in headed into 2019? Naturally, plug him in at left guard, where he can compete with Feeney, who was the lowest-graded Chargers lineman. It made perfect sense: Russell Okung was the left tackle, Mike Pouncey had the center spot locked up, Schofield was much better than Feeney, and the team felt Sam Tevi could develop enough.
What happened: Feeney ended up playing about on-par with Lamp in the preseason, and Schofield ended up being the one to struggle. By the time the Chargers may have realized they were rotating Lamp at the wrong guard spot, it was too late. Feeney held onto the job.
Then, against the Detroit Lions, Feeney posted an elite grade with Pro Football Focus, ending up the second-best lineman of Week Two from across the entire NFL. He's also the Chargers' highest-graded lineman overall, albeit through only two games.
So here's Lamp's journey of surprise circumstances:
ACL tear in 2017.
Did not recover in time for 2018, and the Chargers opted to continue with what was initially a solid starting five.
Was slated to compete with the team's worst-graded lineman in the preseason.
Ended up nearly even with said lineman in the preseason.
Best guard (Schofield) became the team's weakest link in the preseason.
Feeney is now the team's best offensive lineman through two weeks.
So now Lamp is stuck behind Schofield, and here fans are again waiting for the former second-round selection to make his starting debut. For what it's worth Schofield has a season grade of 63.8, which is tied with his center counterpart Pouncey.
While talent certainly can overcome unfortunate circumstances, it's apparent Lamp has been unlucky finding a home along the offensive line. Every plan the Chargers' coaching staff has had for him has been thwarted by injuries, continuity, and other players simply playing really well recently. Fans, the coaches, and Lamp will have to be patient once more.