Daniel Jeremiah shocked if Chargers lineman Forrest Lamp doesn't start this season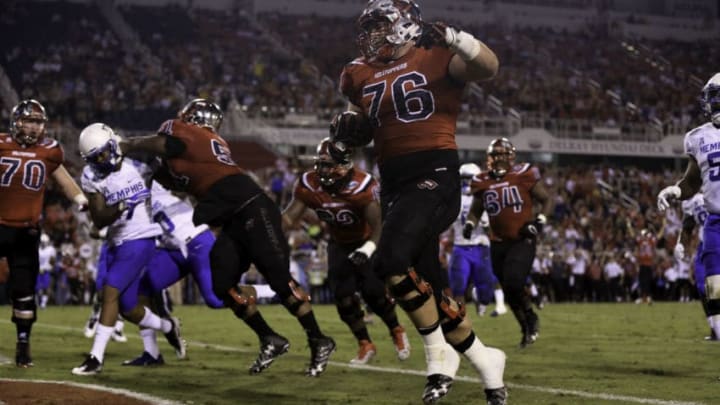 BOCA RATON, FL - DECEMBER 20: Forrest Lamp #76 of the Western Kentucky Hilltoppers scores a touchdown during the first half of the game against the Memphis Tigers at FAU Stadium on December 20, 2016 in Boca Raton, Florida. (Photo by Rob Foldy/Getty Images) /
It may have taken a few years, but it sounds like the Chargers may finally see Forrest Lamp crack the starting lineup in 2019
Forrest Lamp has endured both injuries and criticism for two years now, often relegated to the bench or at best second-string offense as he recovered from a season-ending ACL injury. It was clear the Chargers needed him in the starting lineup, but the coaching staff was content with the continuity in their starting five that led them to a 12-4 record. Unfortunately, that same continuity cost them a Super Bowl title, something that may have been predicted watching the unit decline in efficiency as the season came to a close. Heading into 2019, it looks like the Chargers won't make that mistake again, and are set to try Lamp at nearly every position. Good news for fans: It's going well, so much so that one pundit close to the team believes there's no chance he isn't a starter this season:
Lamp has been outstanding in the offseason. I'll be shocked if he doesn't start. He can play RT too. People forget that.
— Daniel Jeremiah (@MoveTheSticks) June 26, 2019
Jeremiah believes Lamp has been spectacular thus far, and will find a home somewhere alone the starting line. Whether at left guard, right guard, or right tackle, Lamp will find a spot where his superior talent can best be used.
Though fans should be excited Lamp will finally enter the starting lineup, it should be remembered that him winning the job does not guarantee immediate elite potential. This would be his first time ever starting in an NFL game, and having played in just 17 snaps last season there will likely be a slight learning curve for the third-year player. By the time the postseason comes, however, expect Lamp to have enough experience to help avoid a Divisional Round repeat from last season.