What could a Joey Bosa extension look like for the Chargers?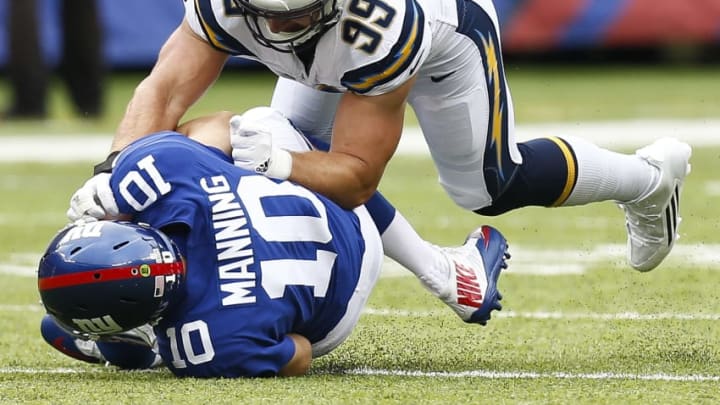 EAST RUTHERFORD, NJ - OCTOBER 08: Joey Bosa #99 of the Los Angeles Chargers sacks Eli Manning #10 of the New York Giants during their game at MetLife Stadium on October 8, 2017 in East Rutherford, New Jersey. (Photo by Jeff Zelevansky/Getty Images) /
Joey Bosa has earned a massive contract extension, but will Chargers general manager Tom Telesco pay up to keep one of his best players?
Joey Bosa is one of the most talented, polished pass-rushers to come out of the college ranks in quite some time. Even as a rookie, his hand usage and array of pass rushing moves were more advanced than many of his counterparts.
Whereas Melvin Ingram often wins with speed, bend, brute force, and a nifty spin move he picked up from Dwight Freeney, Bosa is a technician with his hands and seems to approach each effort to get to the quarterback like a chess match with whichever offensive lineman is unlucky enough to be lined up against him.
The results have been outstanding: 28.5 sacks through his first 35 career NFL games. For comparison, defensive ends Frank Clark and Demarcus Lawrence both only had 15.5 sacks through their first 35 career games. It took Lawrence 52 games and Clark 53 games to get to the same number of career sacks that Bosa has in more than a full season of fewer games played.
So what does this all mean for Bosa and his next contract, in the context of what the Chargers can reasonably afford with Keenan Allen, Desmond King, and Ingram all having contracts that expire the same year as Bosa?
Clark and Lawrence did Bosa a favor by agreeing to defensive end contracts with average annual values above $20 million for the first time in NFL history (Khalil Mack is classified as an OLB and Aaron Donald is a DT).
Both of those deals set a floor for the start of negotiations for a Bosa deal, but how high will his agent go and how much can the Chargers afford? According to Spotrac, Mack and Donald are the top two highest paid defensive players in the NFL at $23.5 million and $22.5 million average annual value, respectively, but they both man different positions than Bosa does.
Will that really matter when negotiations begin for a new deal, though, if Joey has gotten to and taken down quarterbacks more frequently than even Mack and Donald did through their first 35 NFL games? Surprising as it may sound, Mack only registered 19 sacks through his first 35 games while Donald only registered 20 sacks through the same number of games. Although those two play different positions than Bosa, production is production and the numbers don't lie: Bosa gets home and takes down quarterbacks often, and will be paid well to do so for his entire career.
His agent has all the ammunition he needs to start any contract discussions at an average annual value of $24 million. In order to keep Bosa in LA though, the Chargers are going to have to push that number likely north of $25 million per season.