Melvin Gordon extension strongly supported by Chargers fans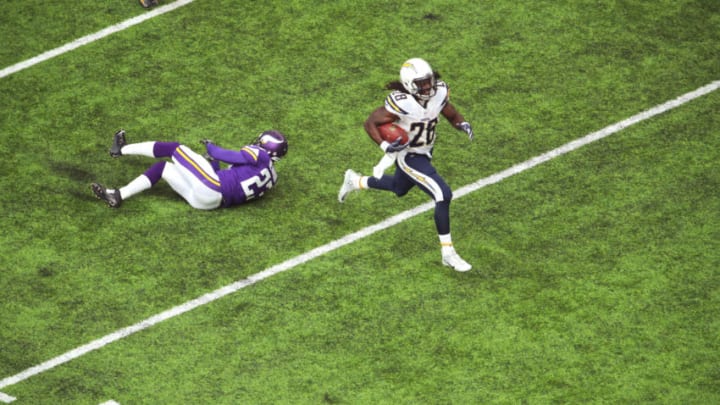 MINNEAPOLIS, MN - AUGUST 28: Melvin Gordon #28 of the San Diego Chargers avoids the tackle of Terence Newman #23 of the Minnesota Vikings for a touchdown in the second quarter at U.S. Bank Stadium on August 28, 2016 in Minneapolis, Minnesota. (Photo by Adam Bettcher/Getty Images) /
Melvin Gordon is looking for a contract extension, and Chargers fans would be happy to see their franchise back receive one…
Melvin Gordon didn't have a single touchdown in his disappointing rookie season, but after finding the end zone 38 times over the past three seasons, he's looking to score in a new way: a big contract:
@Melvingordon25 tells @WendiNix_ESPN on NFL Live that he will report to mandatory minicamp. Also negotiations have started with the Chargers and his representation on a contract extension, but no deal yet. Gordon is in the final season of rookie deal, set to make $5.6 M in 2019.
— Eric Williams (@eric_d_williams) June 6, 2019
Last year, Gordon rushed for a career-best 5.1 yards per carry and went for 1,375 total yards en route to a Pro-Bowl selection. Apparently, Chargers fans have loved what they've been seeing from the running back, as they are all for giving Gordon the extension they feel he deserves:
You're the #Chargers GM: Does Melvin Gordon get an extension? Assume you have to make the decision before the season begins.
— Bolt Beat (@BB_Chargers) June 7, 2019
It was likely a question polling Chargers fans would fall in favor of a Gordon extension, but to have such an overwhelming percentage vote so is surprising. Also noteworthy is how this strong majority would give him an extension before the season even began, which was a (hopefully read) condition within the question.
Those who did not vote yes offered a number of reasons:
Injuries have kept him out of multiple games
The Chargers won important games without him last year (Chiefs, Steelers)
Too expensive of a contract
Need more money for future contracts, such as Philip Rivers and Joey Bosa
The Chargers may have the most leverage right now, and would be wiser to extend their former first-round pick now rather than next season. If Gordon plays his most efficient and healthy season of his career in 2019, Tom Telesco will have to pay him a top-of-the-market contract. If their intention is to have Gordon remain with the team for another four or five years, do so while there are more detractors slightly deflating his contract.