LA Chargers News
Los Angeles Chargers: Comparing 2018 to 2006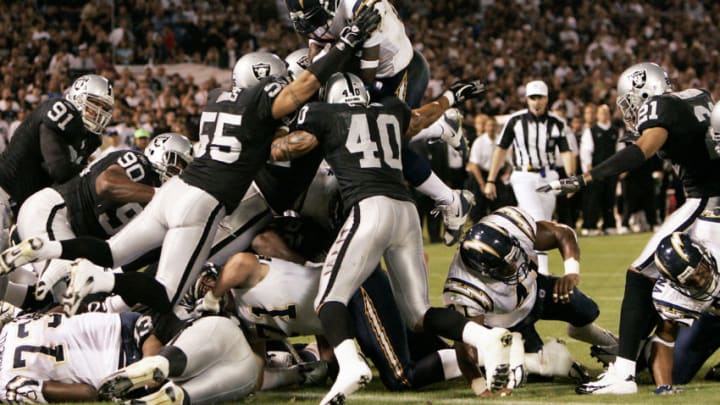 San Diego runningback LaDainian Tomlinson goes up high for the first touchdown of the game as the San Diego Chargers defeated the Oakland Raiders by a score of 27 to 0 at McAfee Coliseum, Oakland, California, September 11, 2006. (Photo by Robert B. Stanton/NFLPhotoLibrary) /
I was going to write a short piece, but then I got sucked down a rabbit trap or reminiscing about our old (San Diego) Los Angeles Chargers squad of 2006.
I don't know how many people are going to read the title and still say "we have to make it to the playoffs first." Shut up and just jump on the bandwagon already! We are going to make it into the playoffs! Let's stop thinking small and start thinking about the trophy. The team has been talking about that trophy since they stepped into training camp and we can talk about it now as well!
This is one of the best squads that has been assembled around Philip Rivers. The best chance that Philip Rivers had getting to the Super Bowl were those teams that couldn't get past the Patriots. We all remember Marlon McCree! Just get down!
Lets compare that team to what we have this year!
Quarterback: Philip Rivers 2006 vs Philip Rivers 2018
Still can't believe it has been over 10 years since we have been able to build a team around Philip. In 2006. Philip was leaning mostly on Ladainian Tomlinson in the run game. The team finished 14-2 and Philip threw for 3388 yards with 22 touchdowns. Through 12 games this season, Philip has thrown for 3418 yards and 28 touchdowns. The team is assembled a lot different though and the offense doesn't lean on the run game as much as it did back then. Philip's QB rating was 92.0 in 2006 and is 115.7 this year.
Running backs: Ladainian, Michael Turner, Darren Sproles vs Melvin Gordon, Austin Ekeler, Justin Jackson
There is no comparison here. LT is one of the best backs of all time and in that 2006 season, LT had 28 touchdowns. He also led the league with 1815 yards. Gordon has 9 this year! This year we are attacking through the air and Mel as 453 yards receiving this year while LT had 508 that year.
We won't go through the stats at every spot, but LT was dynamite!
Can't mention the running backs of 2006 without mentioning Lorenzo Neal. He is one of the best fullbacks to play the game.
Wide Receivers:
2006: Keenan McCardell, Eric Parker, Vincent Jackson, Malcom Floyd
2018: Keenan Allen, Mike Williams, Tyrell Williams, Travis Benjamin
How crazy is it that we had Keenans leading both squads. Vincent Jackson and Malcom were youngins in that year and they still were not the threats that we all know. Kinda like Mike Williams and Tyrell Williams. They are full of potential, but we still are not sure what they will do in this league.
Keenan Allen is dominating this year and will be the player that the Patriots will look to shut down when we face them in the playoffs. Will the other players be able to step up in a big game?
Tight Ends: Antonio Gates vs I can only pray that it is Hunter Henry
When we get to the playoffs, I can only pray that we get Hunter Henry back. Otherwise, there is no threat at the tight end position, but we do have old Gates to still get first downs from time to time.
Offensive Line:
2006: Marcus McNeill, Kris Dielman, Nick Hardwick, Mike Goff, Shane Olivea
2018: Russell Okung, Dan Feeney, Mike Pouncey, Michael Schofield, Sam Tevi
I like the nastiness of both these squads and they are led by veteran centers. Pouncey has changed the culture of this offensive line and has helped it bring some respect.
Overall offense: I was just going to go over a few players when I started out with this post, but went down a rabbit hole real fast. The 2006 offense was dominant. I don't think that our offense is close to that level at this point, but we do have a better and smarter Philip Rivers to run the team and that could go a long way.
The 2006 offense was dominating and they could control the clock with that running game. The 2006 offense averaged 30 points per game and led the league. We are 6th in the league and average 28.3 points per game.
Just looking at the playmakers and 2006 had Philip, LT, Gates. Couldn't really name any of the other wide receivers as a threat at this time. Sproles was always a threat to break something off big when he was in the game as well.
This year we have Philip, Gordon, Slayer. Ekeler had been a threat any time he was in the game and the other receivers have shown more consistency and playmaking ability than anyone in 2006.
Front 7:
2006: Luis Castillo, Igor Olshansky, Jamal Williams, Shawne Merriman, Shaun Phillips, Donnie Edwards, Randall Godfrey
2018: Joey Bosa, Melvin Ingram, Brandon Mebane, Darius Philon, Jatavis Brown, Adrian Phillips, Desmond King
First off, what the hell is our front 7!?! We usually run our defense in the nickel, especially without any depth at linebacker. Kyzir White was nice when he was in and Denzel Perryman is out for the year.
Shawne and the other Shaun were amazing at getting after the quarterback. in 2006 Lights Out finished with 17 sacks and led the league. Bosa and Melvin Ingram have that type of potential to get after the quarterback, but Bosa got a late start this year.
Donnie Edwards and Adrian Phillips have the same type of Football IQ that they bring to the field. Both are really good at reading the offense in front of them.
Just looking at the players that we use on defense and you can tell that the league has changed a ton. We have a bunch of hybrid type players that can fly around the field and cover anyone.
Secondary: 
2006: Quentin Jammer, Drayton Florence, Terrance Kiel, Marlon McCree
2018: Derwin James, Casey Hayward, Michael Davis, Jahleel Addae
Dang our secondary sucked in 2006! Jammer was solid, but never was a star. We didn't even have Eric Weddle in 2006 yet and it took some time for Weddle to develop into the player he became.
Our secondary is headlined by Derwin James and Casey Hayward. I really wish we had a healthy Jason Verrett and this would be dominating! Hayward is solid, but does struggle with elite speed. We have seen Antonio Brown and Tyreek Hill burn him before.
Derwin James is a once in a lifetime talent!
Overall Defense:
If you just look at the playmakers on the 2 squads, 2006 had Shawne Merriman, Shaun Phillips and Donnie Edwards. J-Will was also a beast in the middle of the line.
This year, we have Joey Bosa, Melvin Ingram, Desmond King, Derwin James and Casey Hayward.
Special Teams: 
2006: Darren Sproles, Nate Kaeding, Mike Scifres
2018: Desmond King, Mike Badgley, Donnie Jones
Nate was amazing in the regular season, but when the playoffs came the lights turned off. I still hold my breath when Badgley kicks, but that is because of all the mess we had before him.
Overall Team: 
We have the makeup to get to the Super Bowl. We have the team that can compete. We have playmakers on both sides of the ball that can change the outcome of a game. I sometimes forget how stacked our team was in 2006. We do have a pretty solid squad going into the playoffs this year.
With a little bit of balls bouncing in our direction and more missed calls from the refs… ?
If there is one player I am worried about Marlon McCreeing our game… it would be Jahleel.
Super Bowl!