Chargers Draft
Chargers 2018 draft: Trade down or trade up?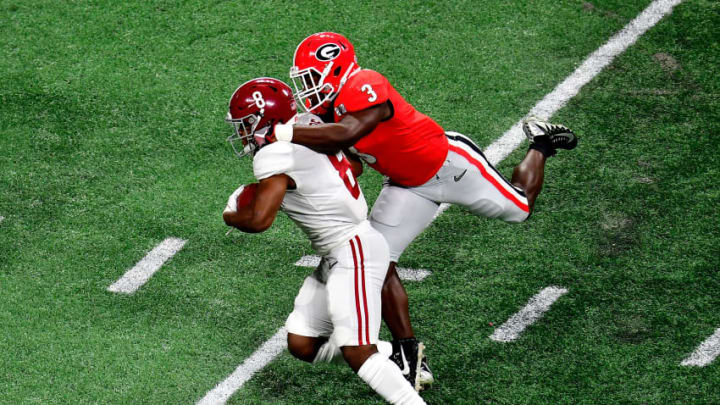 ATLANTA, GA - JANUARY 08: Josh Jacobs /
Every week, I'm going to give you Los Angeles Chargers fans and Bolt Beat readers a simple "Would You Rather" scenario to think about, discuss and ultimately decide upon. Our next question is about possible movement in the 2018 NFL Draft…
Last week's results (from the comments section):
Defensive Tackle: 60% of the vote
Most Votes: Vita Vea, Washington
Linebacker: 40% of the vote
Most Votes: Tremaine Edmunds, Virginia Tech
While all of you chose one side or the other, it seems that the majority stands behind either selection, and that you can't really go wrong with either pick. Thanks for your comments!
This week, another draft-day scenario, also in the first round:
Would you rather move up or down in the 2018 NFL Draft?
Rules:
You can move anywhere in the first round of the draft
You must pick which team's selection you're moving up to or moving back to, and what you either give up or get to move to that position.
You must tell me which player you're hoping to select
Scenario 1: Move up in the draft
Possible Options (not saying they're all GOOD options):
Move up to the 5th overall pick (trade with Denver) to select Quenton Nelson, Guard, Notre Dame
Move up to the 9th overall selection (trade with Oakland) to select Roquan Smith, LB, Georgia
Move up to the 15th overall pick (trade with the Cardinals) to select Connor Williams, OT, Texas*Fun fact: the Chargers moved up from 17 to 15 to select Melvin Gordon in 2015*
Move up to select the best defensive tackle on their big board
Whatever your scenario is!
The case for moving up in the NFL Draft:
I can't quite say the Chargers are one pick away from contention, but they sure are almost there. Maybe this is the year Tom Telesco pushes all his chips into the middle and gives the Bolts their best chance.
Roquan Smith had an impressive season in Athens pic.twitter.com/akhzntZQ0Z
— PFF Draft (@PFF_College) January 20, 2018
If you make the draft-day trade (especially if it's to the next selection to be announced), you're guaranteed to land the guy you want. Guys like Roquan Smith (or insert your favorite defensive tackle here) might be gone by 17th pick. The Chargers can ensure they get the best guy for Gus Bradley's defense.
Moving up could also get the Chargers a new right tackle (Connor Williams, Mike McGlinchey, Orlando Fluker err I mean Brown).
Some successful move-ups in the first round of the previous draft include the Texans moving up for QB Deshaun Watson, the Eagles for DE Derek Barnett, the Bills selecting CB Tre'Davious White and the Saints landing OT Ryan Ramczyk.
Scenario 2: Move down in the NFL Draft
Possible Options (again, not saying they're GOOD ideas, just getting your creative juices flowing):
Move back to 20 (trade with the Detroit Lions, who want to take a defensive tackle) and select Rashaan Evans, ILB, Alabama
Move back to 29 (trade with the Jacksonville Jaguars, who want an offensive tackle) and select Billy Price, OG/C, Ohio State
Move back to anywhere and select the best remaining linebacker or defensive tackle on their board)
Whatever your scenario is!
The case for moving down in the NFL Draft:
This one is often the most sensible, because on paper, you don't "lose" anything; in fact, this situation always looks like you gain something.
There needs to be something at 17 that a team would want to move up for. The Chargers most likely position targets at 17 are offensive tackle, defensive tackle, or linebacker. Someone wanting to move up would likely be going after a "draft-fall" player who happened to get out of the top 10.
Some players, like Ohio State Guard/Center Billy Price, aren't great value picks at 17. But if the Bolts move back, they could nab a guy like this:
Ohio State C Billy Price (#54) pancakes this dude and picks him back up. Baptizes him in a way. Fun rep. pic.twitter.com/3Se0vGiOna
— Joe Marino (@TheJoeMarino) November 17, 2017
Slauson-Pulley-Wiggins would become Feeney-Price-Lamp, and that could help out Rivers and Gordon for a long, long time.
Not to mention the Chargers will likely acquire a pick or two (depending on the movement), which could help them stock up on Day 2 or late-round prospects.
So:
Would you rather move up or down in the 2018 NFL Draft?
I've got a slight feeling I know where this is going, but I challenge you readers to weigh both options. Remember, the Chargers likely won't make the same move you make, so have fun with it! Be sure to make your selections clear (both the decision and the player) in the comments section.
Go Bolts!