Where are all the Chargers fans?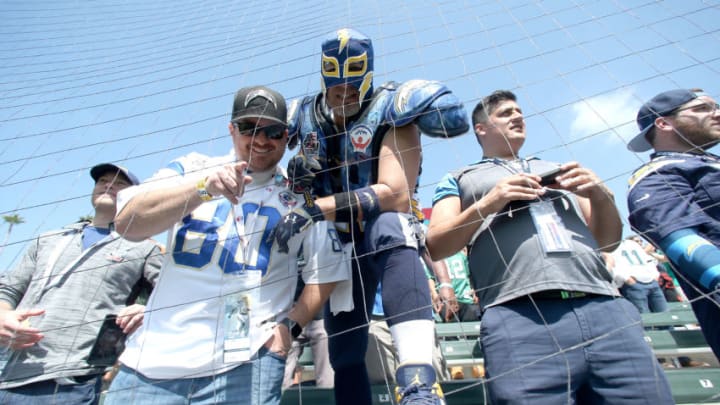 CARSON, CA - OCTOBER 01: Los Angeles Chargers fans are seen before the game against the Philadelphia Eagles at the StubHub Center on October 1, 2017 in Carson, California. (Photo by Stephen Dunn/Getty Images) /
Hey! You there! You look like a sports fan. You look like you may even be FanSided's Sports Fan of the Year, the best ever to cheer the game.
If you are, we're going to need you to prove it — but we promise, it'll be worth your while.
We can't offer you rings — no, there are some things only professional sports achievement can provide for you — but what we can offer the 2017 Sports Fan of the Year is pretty sweet.
Gone are the days (2015) of "just" a year's subscription to Sports Illustrated and "only" a profile in the magazine. Now, we do all that and fly you to New York, load you up with swag, including but not limited to a trophy and your own bobblehead. And we're not sending you to New York just for kicks. No, we're sending you to New York City to attend the Sports Illustrated Sportsperson of the Year ceremony — after all, you, Sports Fan of the Year, are also a sportsperson, in a way. We're sending you to rub elbows and take surreptitious selfies with the likes of LeBron James, Peyton Manning and "Big Papi" David Ortiz.
At least that's who San Francisco Giants devotee Dave Edlund hobnobbed with when he won last year.
Now, you know you're the best fan out there. (Or, alternatively, you know someone who is.) But how do you convince us?
Step One: Go to the Fan of the Year homepage.
Step Two: Click "Enter Now" or "Submit Entry." Nailed it.
Step Three: Enter your contact information. (Name, phone, email, etc.) You've got this.
Step Four: Now, convince us.
We need you to submit 200-words or a two-minute video explaining why you're the Fan of the Year. Tell us about how you've attended every game for the past 25 years. Tell us how you have a lucky jersey and it's absolutely unbeaten. Tell us how you have to excuse yourself from family functions because you can't watch games in public spaces. We want to know.
There are, of course, rules — no duplicate entries, no profane or pornographic content — and regulations — legal residents of the 50 U.S. states; 18 years and older — but the most important for you, dear fan, is the deadline.
Application window closes at midnight on Friday Oct. 27.
So what are you waiting for? You have a title to win!