LA Chargers News
Chargers: Breaking down the nightmarish kicking competition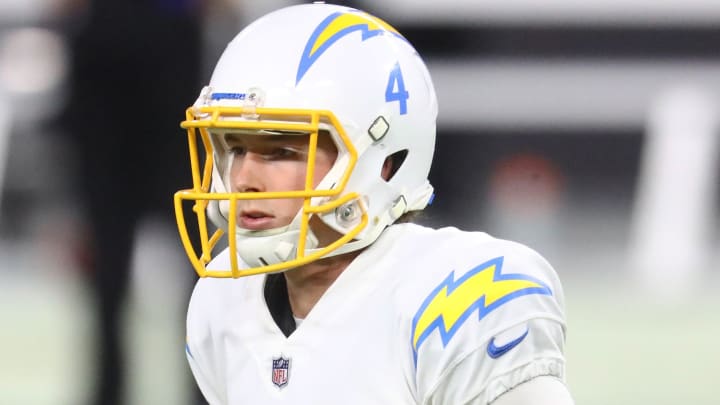 Mark J. Rebilas-USA TODAY Sports
Justin K. Aller/Getty Images
Alex Kessman
Alex Kessman is probably the third-stringer at this point in the competition, but I wouldn't declare him out of the running yet. The former Pitt kicker will get at least one preseason game to show his stuff. Unfortunately, the scrimmage was not so friendly for Kessman, as he went 2-6 on field goals:
Kessman was an undrafted free agent that the Chargers signed immediately after the draft. In four years at Pitt, Kessman was a 72.6% field goal kicker who made 97% of his PAT's.
While that field goal percentage may seem low, it's also worth pointing out that he hit an individual season-high of 79.3% on his field goals during the 2020 Pitt season. He was clearly on an upward trajectory.
One reason Kessman intrigues me is that he's one of a few college kickers who kicked in an NFL stadium. Heinz Field is historically one of the most difficult places to kick at given how it's built and the wind that comes through.
Kessman shared the record for the longest field goal made at Heinz with former Tampa Bay Buccaneers kicker Matt Gay at 55 yards before Chris Boswell made a 59 yarder there in the 2020 NFL Season.
Kessman has a strong enough leg to boot the ball but the knock on him is consistency. In a game vs. Boston College in 2020, Kessman drilled a 58 yarder to send the game to overtime but then missed an extra point to hand BC the win.
While it was an infamously bad moment, Kessman's response did speak volumes about his potential. On his next 12 field goal attempts, some well over 50 yards, he went 11-12 after the Boston College game.
Being able to hit from 45-50+ yards is such a huge advantage for Kessman, but he has to get more consistent from intermediate range if he wants a chance at an NFL job. We'll see if that happens with the Chargers in 2021.