LA Chargers News
Chargers training camp: 3 players who may have bigger roles than expected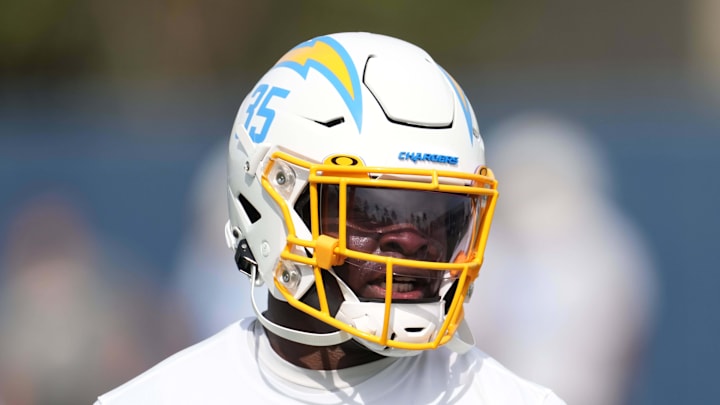 Kirby Lee-USA TODAY Sports
Los Angeles Chargers v Kansas City Chiefs / Jamie Squire/Getty Images
3. Gabe Nabers
Gabe Nabers has had an interesting relationship with Charger fans. With Derek Watt leaving the team for the Pittsburgh Steelers in the 2020 offseason there was a battle for the fullback position in camp.
The battle was between Nabers and Bobby Holly. Holly is an athletic freak of nature and was many fans' pick to win the job. Thus, it was a surprise when Nabers won the job over Holly.
The fullback position is no longer that prominent in the NFL and the Chargers did not utilize Nabers that often last season. Although he did have two touchdowns, he played only 11% of the offensive snaps and 58% of the special teams' snaps.
There is obviously a ceiling with how many snaps you can give a fullback in 2021 and the Chargers could toe that line. We are only two practices in but the Chargers are already getting creative with how they use Nabers, lining him up out wide in drills.
There was all this talk of the Chargers potentially using Easton Stick like Tayson Hill with former New Orleans Saints quarterbacks coach Joe Lombardi getting the role. Stick is not Hill just because he can run fast but that does not mean that the offense can't have a Swiss Army Knife.
Perhaps Nabers can be that guy. He is obviously not going to throw the football (unless they go with the old-fashioned LaDainian Tomlinson play) but he can be someone who lines up in a myriad of spots on the offense.
It is not that far of a stretch to envision Nabers lining up at fullback, tight end and out wide in 2021. Staley has preached the importance of matchups all offseason and if a good matchup for Nabers exists then they will utilize it.
Even if they are not using him in this versatile manner, with the football IQ of the coaches in LA, I bet that Nabers is used more often and more effectively in 2021.