LA Chargers News
AFC West Week 2 recap: Are the LA Chargers the bonafide second-best team?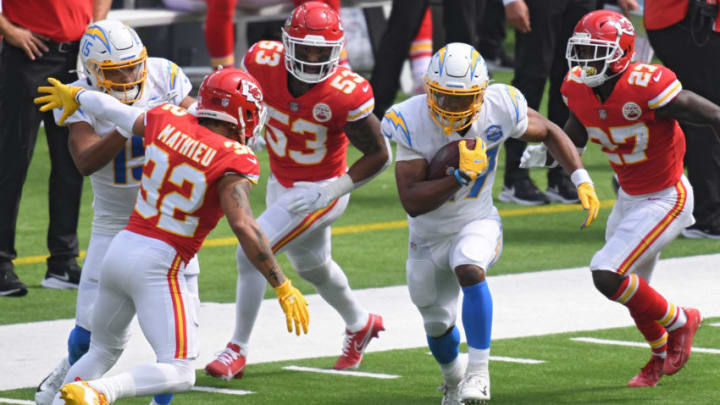 (Photo by Harry How/Getty Images)
(Photo by Ethan Miller/Getty Images) – LA Chargers
Las Vegas Raiders defeat the New Orleans Saints, 34-24
Key takeaways:
I have to give credit where credit is due, the Las Vegas Raiders looked really good against the New Orleans Saints. The Raiders did whatever they wanted on the offensive side of the football and capitalized on some mistakes that the Saints made offensively to dominate the time of possession and win this game.
I would not say this win catapults the Raiders on the NFL totem pole, however. We have seen these big games from Derek Carr before that get followed by bad games. They barely beat the Carolina Panthers in Week 1, who were shelled by the Tampa Bay Buccaneers in Week 2.
Plus, the Raiders did get a lot of help from the Saints' mistakes. A crucial pass interference by Malcolm Jenkins on third and long late in the fourth quarter essentially secured the win for the Raiders and offensively the Saints could not get anything going because of the mistakes with penalties.
Are the LA Chargers better than the Las Vegas Raiders?
Undecided. The Raiders obviously have the better record and any Raider fan would say that they are better but I think the two teams are on a level playing field and we need more time to really evaluate where both teams stand.
The Chargers have one of the best defenses in football and that should not even be questioned. Offensively, I really like the weapons that the Raiders have and with Jon Gruden at the helm, I do think this can be a top-10 offense in the league.
However, I have not seen enough from the defense. The defense allowed Drew Brees, who cannot throw for more than 15 yards anymore, to score 24 points with an interception, a fumble and countless penalties from the offense.
They also allowed Carolina to score 30 points. The Saints should have scored 30 points. The Raiders will not win many more games allowing 30 points.
Over the next five weeks the Raiders play the Patriots, Bills, Chiefs, Buccaneers and Browns. All five of those games are either toss-ups or are favored to the Raiders' opponent. They could be 2-5 after the stretch, 7-0, or probably somewhere in-between at 4-3/5-2.
The Chiefs are the clear best team in the AFC West, the LA Chargers and Las Vegas Raiders share the second spot and the Denver Broncos are last — by a wide margin as well.