Chargers All-Time Lists
LA Chargers: Five best undrafted free agents in franchise history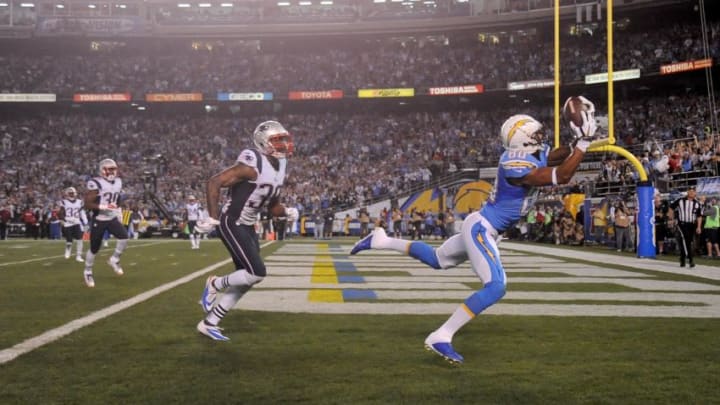 SAN DIEGO, CA- DECEMBER 7: Malcom Floyd #80 of the San Diego Chargers catches a touchdown pass against Brandon Browner #39 of the New England Patriots during an NFL game at Qualcomm Stadium on December 7, 2014 in San Diego, California. (Photo by Donald Miralle/Getty Images)
(Photo by Thearon W. Henderson/Getty Images) – LA Chargers
Best UDFAs in LA Chargers history: 1. Antonio Gates
You probably knew this was coming from the moment that you saw the title of this article unless you simply did not know that Antonio Gates was a UDFA. Gates is not just the greatest UDFA in Chargers' history but is one of the greatest in NFL history as well.
Gates leads all UDFA players in franchise history in AV and it is not even close. He compiled 127 career AV, which is 54 more than the 73 that Dielman had in second place.
Gates is 11th all-time in AV among UDFA across the league but he is tied for second in Pro Bowl appearances (eight) and is third in All-Pro nods (three). Gates is one of the three greatest tight ends in league history.
His story might just be the best, though. It is now something that almost every football fan knows but Gates was a college basketball player and never actually stepped foot on a college football field. He did not make the NBA and went back to his football roots from high school.
The Chargers were the lucky team that worked Gates out first and they did not let him work out with any other team as they signed him right away.
It is one of the best stories in NFL history. Gates is an all-timer that is going to get his number retired by the Chargers and is going to be immortalized in the Pro Football Hall of Fame in his first year on the ballot.
He is on the Mount Rushmore of all-time Chargers greats and has the distinct honor of being the best UDFA in LA Chargers' history.