Los Angeles Chargers: Ranking team's 5 best season-opening victories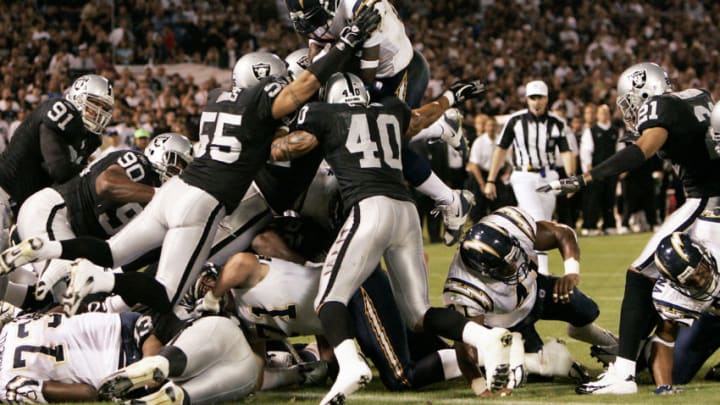 San Diego runningback LaDainian Tomlinson goes up high for the first touchdown of the game as the San Diego Chargers defeated the Oakland Raiders by a score of 27 to 0 at McAfee Coliseum, Oakland, California, September 11, 2006. (Photo by Robert B. Stanton/NFLPhotoLibrary) /
1. September 7, 1981
The 1981 season opener was the best in team history for a few reasons, but mostly because of the team the Chargers beat and how they did it.
The 1980 Browns were a great team. The won the AFC Central division and went into the playoffs as the AFC's No.2 seed. Brian Sipe, the team's quarterback, won league MVP honors that year.
The Chargers were the AFC's No. 1 seed that year and they seemed to be on a collision course with the Browns. Unfortunately, the Raiders found a way to beat both teams in the playoffs en route to winning the Super Bowl.
These would-be Super Bowl contenders were slated to square off to start the following season and it wasn't even close. The Chargers went into the "Dawg Pound" and blew the Browns out by 30 points.
Sipe had a big day, throwing for 375 yards, but the Chargers intercepted him twice and had a trio of players post big numbers as well. Fouts threw for 330 yards and three touchdowns, Chuck Muncie rushed for 161 yards and Charlie Joiner caught six passes for 191 yards.
The two teams also went in completely opposite directions that year. The Browns finished 5-11 while the Chargers went 10-6 and appeared in a second consecutive AFC Championship Game.