LA Chargers News
Los Angeles Chargers: Ranking team's 5 best season-opening victories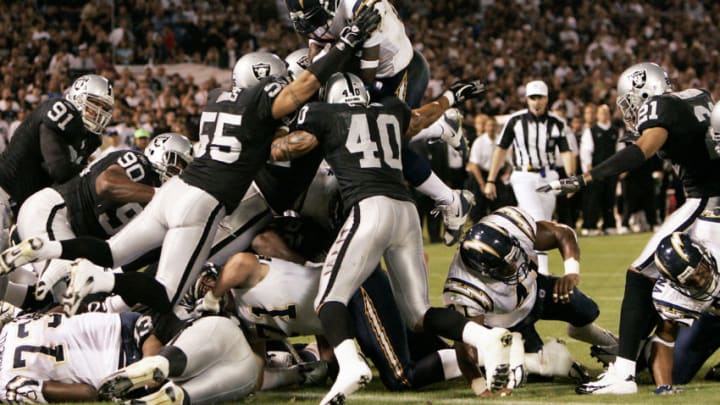 San Diego runningback LaDainian Tomlinson goes up high for the first touchdown of the game as the San Diego Chargers defeated the Oakland Raiders by a score of 27 to 0 at McAfee Coliseum, Oakland, California, September 11, 2006. (Photo by Robert B. Stanton/NFLPhotoLibrary) /
2. September 4, 1994
What a season opener this was. Remember when Sunday Night Football was played on TNT? No? Well, it once was, and this game was featured in the season opener.
The Chargers were coming off a dismal 8-8 season in 1993 despite making the playoffs in 1992. The team had high hopes in 1994 but had to get past John Elway and the Denver Broncos in the season opener at Mile High Stadium.
The Broncos jumped out to a 17-6 lead in the first quarter on touchdown plays of 50 and 22 yards. But the Chargers bounced back with a huge second quarter, getting two touchdown passes from Stan Humphries and a 99-yard interception return for a touchdown by Stanley Richard.
The second half was much less wild but still had plenty of excitement.
Elway threw a touchdown pass to Shannon Sharpe to put the Broncos back up but Humphries took his team on a long drive, capped off by a 1-yard touchdown run by Natrone Means to give the Chargers a 37-34 lead late in the fourth quarter.
But Elway, known for his fourth-quarter play and game-winning drives, looked poised to do it again. The Broncos drove all the way down to the Chargers' 3-yard line and with less than a minute to go, faced a 2nd-and-goal situation. Elway rolled out to throw and appeared to have a receiver open in the end zone. But the ball slipped out of his hands and went right into the arms of Junior Seau, who sealed the victory. It was vindication for Seau, who helped the Broncos drive with a roughing the passer penalty.
The Chargers went all the way to the Super Bowl in 1994 and this performance helped the team get off to a 6-0 start that year.