Los Angeles Chargers: Ranking team's 5 best season-opening victories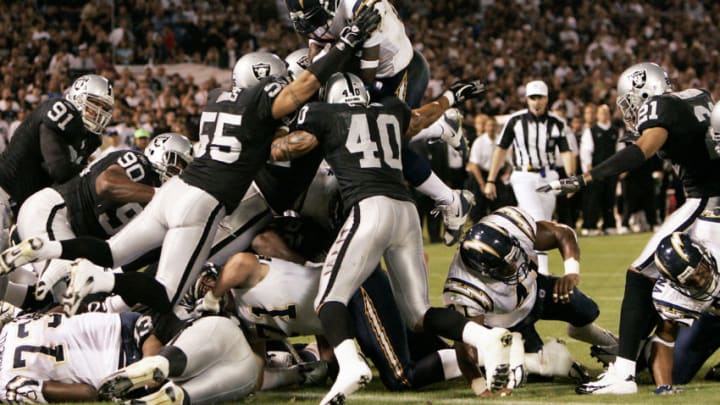 San Diego runningback LaDainian Tomlinson goes up high for the first touchdown of the game as the San Diego Chargers defeated the Oakland Raiders by a score of 27 to 0 at McAfee Coliseum, Oakland, California, September 11, 2006. (Photo by Robert B. Stanton/NFLPhotoLibrary) /
3. September 11, 2006
The 2006 Chargers were arguably the greatest in team history and they got off to a roaring start on the road that season.
The 2006 Oakland Raiders were not a good team, but it's always good to pummel your division rivals, correct? This marked the first shutout victory (and to this day, only) in Week 1 in team history.
The Chargers weren't an offensive juggernaut in this game, though LaDainian Tomlinson carried the ball 31 times for 131 yards and a touchdown. Still, the Chargers won this game despite getting just 108 yards passing from Philip Rivers.
That is because the defense was ferocious. They were all over the Raiders that day, totaling nine sacks, three of which came from Shawne Merriman, and holding the combination of Aaron Brooks and Andrew Walter to just eight completions. The Raiders were held to just 42 yards passing.
Of course, the Chargers would go on to a 14-2 record in 2006, thoroughly dismantling opponents in numerous games that season. This victory got the team off to a hot start, it's just a shame that season ended the way it did.
Still, nine sacks in one game? That has to be a record, right? It's actually not. The team had 11 sacks in a game against the Dallas Cowboys in November 1986.