Los Angeles Chargers: Ranking team's 5 best season-opening victories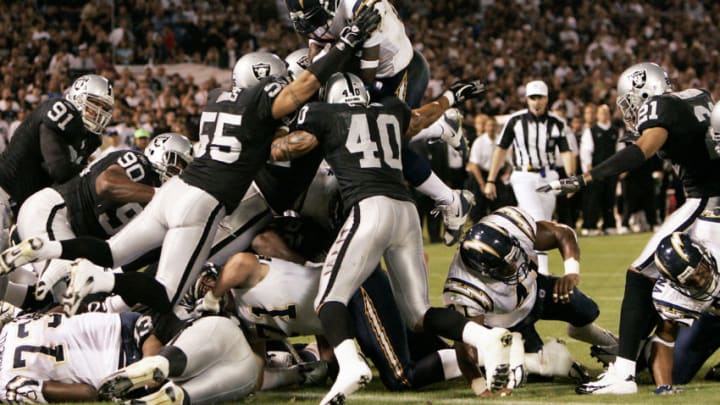 San Diego runningback LaDainian Tomlinson goes up high for the first touchdown of the game as the San Diego Chargers defeated the Oakland Raiders by a score of 27 to 0 at McAfee Coliseum, Oakland, California, September 11, 2006. (Photo by Robert B. Stanton/NFLPhotoLibrary) /
4. September 8, 2019
Depending on the Chargers fans you talk to, some may feel this isn't worthy of being on the list and others may feel it should appear higher on the list because the thrill of this victory is still so fresh.
This was a huge win for the Chargers for a number of reasons. For one, it was the team's first Week 1 win since 2015. They also defeated a playoff team from last year and a trendy Super Bowl pick this year, before the sudden retirement of Andrew Luck, of course.
But the main reason why this game appears on the list is that it is the only time the Chargers history that they have won an overtime game in Week 1. It was only the second time they had ever gone to overtime in the opener, the other being a loss to the Kansas City Chiefs in 2016.
They also won this game while No.1 running back Melvin Gordon continued his holdout, looking for a raise in pay. The Chargers answer? To give the ball to Austin Ekeler and mix in Justin Jackson?
The Chargers' running game was on point in this game, averaging over six yards per carry on the day. There were big holes opened by the offensive line for the two backs to run through and that allowed the team to build a decent lead.
It was concerning to see the Colts come back and almost unbelievably force overtime, but the Chargers won the coin toss and marched the ball down the field, using Ekeler to slam in a 7-yard touchdown run to win the game.