Los Angeles Chargers: Ranking team's 5 best season-opening victories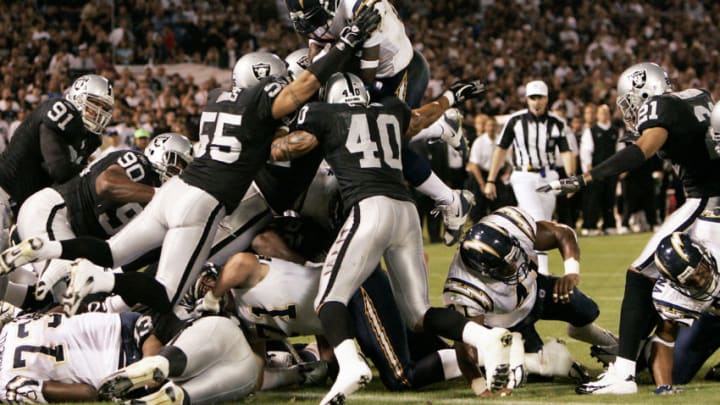 San Diego runningback LaDainian Tomlinson goes up high for the first touchdown of the game as the San Diego Chargers defeated the Oakland Raiders by a score of 27 to 0 at McAfee Coliseum, Oakland, California, September 11, 2006. (Photo by Robert B. Stanton/NFLPhotoLibrary) /
5. September 7, 1986
The Chargers had a miserable 1986 season, but it sure started with a bang.
The Miami Dolphins went to the Super Bowl in 1984 with Dan Marino as a rookie quarterback. The following season, they reached the AFC Championship Game before being upset by the New England Patriots.
They were supposed to be a force in 1986 and their first game was against the Chargers, a team coming off an 8-8 record the year before.
The Chargers jumped all over the AFC powerhouse in this one, getting up 17-0 in the first quarter. Dan Fouts went toe-to-toe with Marino as each quarterback threw for over 290 yards and four touchdowns.
However, the difference in the game was the Chargers' rushing attack. The Bolts used a four-headed monster, yes, four running backs, to take the 'Phins by storm.
Four different backs (Gary Anderson, Lionel James, Tim Spencer and Buford McGee) each had at least 10 carries in this game, something that is unheard of in today's NFL. Anderson also added eight catches for 69 yards as these four backs combined to score four touchdowns on the day.
The Chargers left Jack Murphy Stadium that day after posting 50 points, the most the team had ever scored in Week 1.
Though the Chargers finished with a 4-12 record in 1986, the Dolphins were just 8-8. The loss suffered against the Chargers got them off to a start that they never fully recovered from.