Los Angeles Chargers: Ranking team's 5 best season-opening victories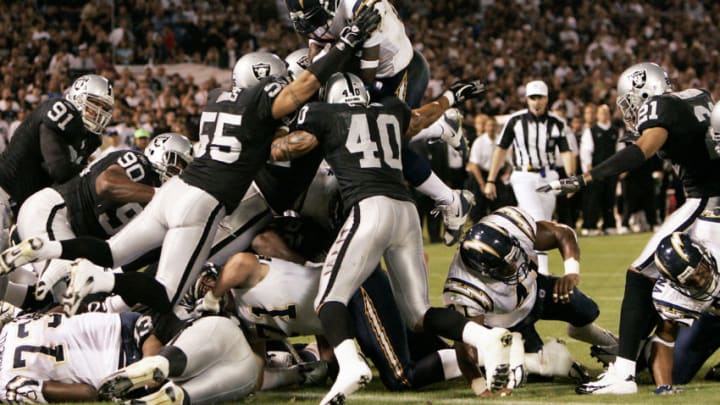 San Diego runningback LaDainian Tomlinson goes up high for the first touchdown of the game as the San Diego Chargers defeated the Oakland Raiders by a score of 27 to 0 at McAfee Coliseum, Oakland, California, September 11, 2006. (Photo by Robert B. Stanton/NFLPhotoLibrary) /
CARSON, CA – SEPTEMBER 08: Running back Austin Ekeler #30 of the Los Angeles Chargers celebrates his touchdown against free safety Malik Hooker #29 of the Indianapolis Colts in overtime at Dignity Health Sports Park on September 8, 2019, in Carson, California. (Photo by Kevork Djansezian/Getty Images) /
Winning the season opener is important for every team, but the Los Angeles Chargers often leave themselves with an early hole to dig out of. That won't be the case this year.
That is because the Chargers were able to defeat the Indianapolis Colts in a thrilling game on Sunday, sending both excitement and expectations for the team sky high. How good is this team? That remains to be seen but when it comes to season openers, where does this win rank?
We looked back at every single season-opening game in franchise history to come up with the five most exciting, impactful Week 1 wins Chargers fans have ever witnessed and those will be ranked right here.
But first, here are some interesting notes that were dug up during that research:
The Chargers are 33-26 all-time in Week 1.
During the AFL days from 1960-1969, the Chargers won their season opener in eight of 10 seasons.
The Chargers have defeated the Seattle Seahawks, a former divisional rival, in five different season openers, including three straight from 1978-80.
In each of the game's that follow, the Chargers were either able to pull off an impressive feat, knock off a talented opponent, or both. Think back to some of your favorite Week 1 Chargers wins. Will any of them appear on this list?