The Chargers shocked the Chiefs and you need this shirt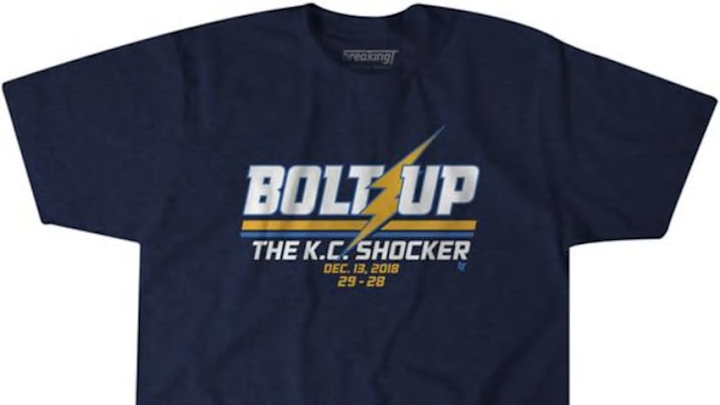 When the Chargers were down by 14… in Arrowhead… without Keenan Allen… against a Kansas City team that's beaten them in nine-straight games… you were probably a lot like me.
Sighing about another presumed loss.
Luckily, no one told Mike Williams and Philip Rivers they were supposed to lose.
The Chargers orchestrated a comeback, scoring on a Williams' touchdown catch with four seconds left. Rivers immediately threw up two fingers and looked at the sidelines. In his mind, there was no debate – they were going for two.
After a review, the teams lined up. LA motioned Travis Benjamin from a right-side bunch formation, confusing the Chiefs and allowing Williams to get wide open for the two-point conversion.
It was an incredible moment – and you need this new t-shirt.
BreakingT
Down two touchdowns on the road against a hated rival that's beaten you nine straight? A gutsy 2-point call capped a truly shocking comeback.
A blend of cotton and polyester makes this t-shirt soft and comfortable. That means you'll feel good and look good (a win-win in our book).
Troll the Chiefs' fans in your life – or celebrate with the LA faithful with this brand new, unique, great looking t-shirt.
Order yours today and tell the world who you're rooting for.