LA Chargers News
Los Angeles Chargers should be favorites to win AFC West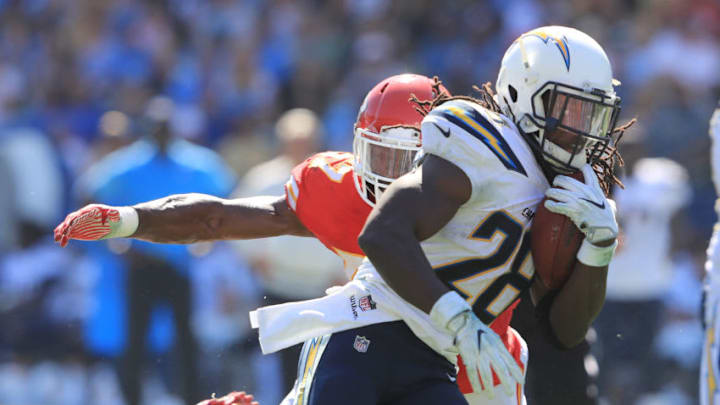 CARSON, CA - SEPTEMBER 24: Melvin Gordon
CARSON, CA – SEPTEMBER 24: Melvin Gordon
The Los Angeles Chargers have turned their season around and sit in a tie atop the AFC West.
With the Oakland Raiders and Kansas City Chiefs playing each other on Sunday, one of those teams will fall out of that tie. A win for the Chargers over the Washington Redskins would then put them in a two-way tie for first place.
With the way this season has gone, the Chargers should absolutely be considered the favorites to win the division.
The Chargers are one of the hottest teams in the NFL, making nearly everyone forget about their 0-4 start to the season. Of course, you're going to hear about the only 0-4 team to ever make the postseason, the 1992 Chargers, many, many times in the next several weeks.
But there are at least three more reasons why those making bets should put their money on the Chargers. Let's have a look.
The Chargers have the easiest remaining schedule
SAN DIEGO – OCTOBER 5: Philip Rivers
No, they really do.
The Chargers play host to the Redskins on Sunday before going to Arrowhead next week. They then travel to face the New York Jets before wrapping the season up at home against the Raiders.
The Chiefs play three of their final four games against the division while also having to face the Miami Dolphins on Christmas Eve.
The Raiders have by far the toughest road to the division crown, having to face the Chiefs on the road on Sunday followed by games against the Dallas Cowboys and Philadelphia Eagles before closing the year out against the Chargers.
Combined record of remaining opponents:
Chargers: 22-26
Chiefs: 22-26
Raiders: 28-20
The division is obviously going to come down to the games played against each other, but with games against the Redskins and Jets, the Chargers may have a bit more margin or error.