LA Chargers News
Los Angeles Chargers: Top 5 takeaways from a crucial win over the Browns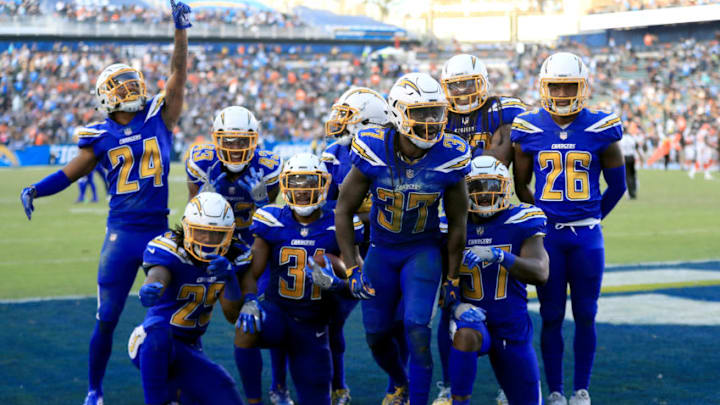 CARSON, CA - DECEMBER 03: Trevor Williams
The Los Angeles Chargers get a much needed win to keep pace in the AFC West, which now moves them into a three-way tie for first  place with the Oakland Raiders and Kansas City Chiefs.
A win over the Cleveland Browns—though it wasn't exactly pretty in some regards—proved to be a big boost for the Chargers in the three-way battle for the AFC West, which will play out over the last four weeks. We'll talk about that a bit later, but first, let's get into the game against the Browns.
1. The first great special teams performance of the year
CARSON, CA – DECEMBER 03: Travis Coons
CARSON, CA – DECEMBER 03: Travis Coons
There was a lot of uncertainty following Nick Novak's performance in recent games, part of it caused by his injury. The team then decided to make the move to put Novak on IR and brought up former Browns kicker Travis Coons from the practice squad to start. After banging his first kick off the upright, he knocked in his next four field goals to go 4 of 5 on the day. A missed field goal may not seem great, but 4 of 5 is the best, most consistent kicking performance of the season from this team.
I feel that a lot of credit must be given to Drew Kaser as well. Football never lends itself to talking about punting very often, but he's been fantastic this season when he's had to punt. Obviously, you hope the team never has to punt often, but Kaser is able to flip field position very well.
Special teams can be the difference when the offense or defense doesn't play well. And it looks like the team is finally on the way to having a great special teams unit, after struggling last season and struggling mightily at the beginning of this year.
2. Keenan Allen is unreal
Keenan Allen has a touchdown, 100+ yards, and 10+ receptions in each of the last three games. How good is that? Well, it's never been done before, so pretty good I guess. The formula has been clicking as of late. 33 of his 77 receptions have come in the last three weeks. He's now one catch away from breaking his single-season reception record, and just 14 yards from breaking his single-season yardage record.
Allen struggled in the beginning of the season but has turned on the jets as of late. He keeps this level of production up, and it opens the entire Chargers' offense to becoming more dynamic.