LA Chargers News
REPORT: Chargers to sign K Travis Coons to practice squad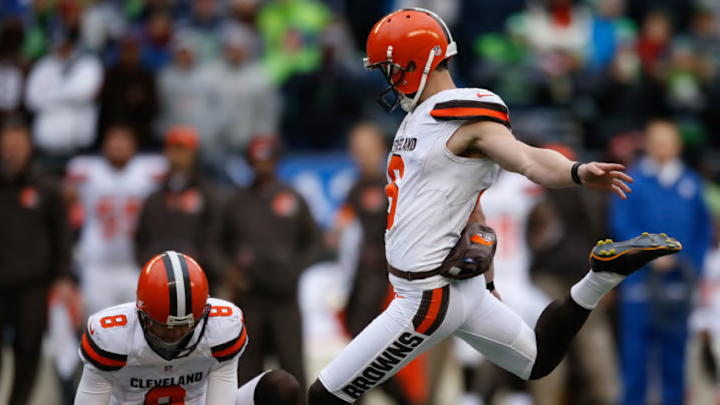 SEATTLE, WA - DECEMBER 20: Kicker Travis Coons
SEATTLE, WA – DECEMBER 20: Kicker Travis Coons
With kicker Nick Novak ailing, the Los Angeles Chargers will reportedly sign another kicker to their practice squad.
According to ESPN reporter Field Yates, the Chargers have added kicker Travis Coons to the team's practice squad.
Source: with Nick Novak (back) currently banged up, the Chargers plan to sign K Travis Coons to their practice squad.
— Field Yates (@FieldYates) November 28, 2017
Coons, 25, last played for the Browns in 2015, his lone season in the NFL. He connected on 87.5 percent (28-of-32) of his field goals that year, including a career long of 47. Two of his four misses came when attempting 50-plus yard field goals.
Kickers have killed the Chargers this season. Los Angeles currently ranks dead last in field-goal percentage (63.2 percent). The Bolts have gone through two kickers already (three if you count punter Drew Kaser and his stellar outing). Undrafted rookie Younghoe Koo replaced incumbent Josh Lambo to begin the season, and veteran Nick Novak replaced Koo after the latter struggled early on, including getting a potential game-tying field goal blocked in the season opener against the Broncos and missing a game-winning field goal against the Miami Dolphins.
Now, Coons will potentially replace Novak, who injured his back in the Chargers' win over the Dallas Cowboys on Thanksgiving. Injury aside, the 36-year-old Novak hasn't been as accurate as hoped for. He's hitting a career-low 69.2 percent of field goals in seven games played. No wonder why head coach Anthony Lynn has been afraid to send his kicker out when the Chargers have a shot at a long field. The lack of confidence in your kicker will 100 percent hurt your team.
The Chargers need to fix this issue if they want to make a playoff run. If Novak can't go, hopefully Coons (…and friends?) can help save the Chargers.