LA Chargers News
Three reasons why the Los Angeles Chargers will beat the Dallas Cowboys on Thanksgiving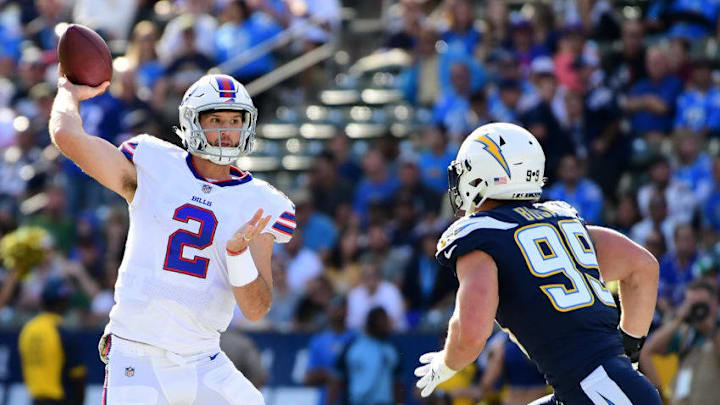 CARSON, CA - NOVEMBER 19: Nathan Peterman
1. The Cowboys are short on playmakers
If I had to make a list of the best Cowboys players, it would look something like this:
RB Ezekiel Elliott
LT Tyron Smith
LB Sean Lee
QB Dak Prescott
WR Dez Bryant
The first is suspended. The second is injured, and will either miss the game against the Chargers or be limited. Lee is out. Prescott is struggling. The last player isn't making a big impact right now.
If Tyron Smith is completely unable to go, Prescott should wave a flag and run. Joey Bosa is coming (no disrespect to Melvin Ingram). Bosa was essentially responsible for four turnovers and one defensive touchdown against the Bills, absolutely terrifying rookie Nathan Peterman.
The Cowboys' best offensive player, Dez Bryant, is likely to be followed around by Pro Football Focus' number one overall rated corner, after a game that had Casey Hayward's day looking something like this:
https://twitter.com/PFF/status/932409255151394816
I'm not a math major, but I think a 0.0 pass rating in coverage is good?
The Chargers are just more put-together right now and have all their players ready to fly around, for better or for worse. And that is automatically an important reason why they might win on Thursday.
What do you think about the Bolts' chances this week? What was your favorite moment of the beat-down of the Bills? Mine had to be that sweet spin move from Ekeler. Happy Thanksgiving to all of you, and as always, GO BOLTS!