LA Chargers News
Three reasons why the Los Angeles Chargers will beat the Dallas Cowboys on Thanksgiving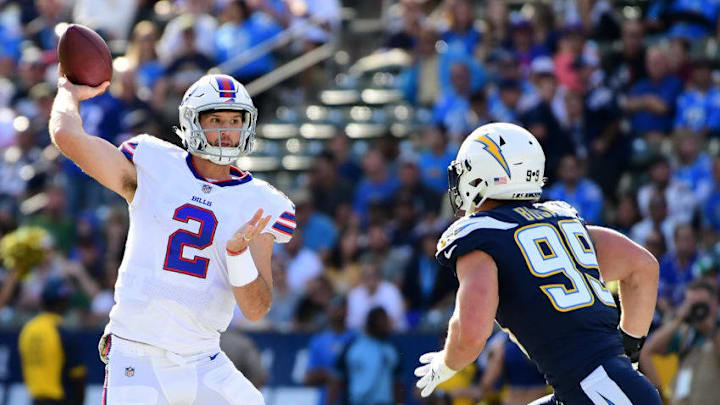 CARSON, CA - NOVEMBER 19: Nathan Peterman
CARSON, CA – NOVEMBER 19: Nathan Peterman
This week, the Los Angeles Chargers look to take on the Dallas Cowboys on Thanksgiving. Do they have a shot to make the upset? This writer thinks so.
Hey, that was fun. Let's do that again, Chargers!
So good to see that many points scored after so many weeks of barely moving the ball into the end zone. The Chargers have an incredibly important, nationally televised match-up on the road this week and I absolutely think they can pull this one off. Here are my reasons as to why they will.
3. The Chargers' offense (maybe, hopefully?) is starting to catch up
I doubt the Chargers will ever score 40 points on offense again this season, but there was more to the offense on Sunday than the points suggest that gives me hope for the rest of the season.
Anthony Lynn challenged his offensive line to be more physical, and if you watch his post-game speech, you know he was happy with the way the big boys played. Rivers was hardly pressured the entire game and was free to find Keenan Allen over and over again. Melvin Gordon and Austin Ekeler (Ekeler mostly in garbage time) had a nice day with a combined 26 carries for 120 yards and two touchdowns, both with a long run over 20 yards.
What's more positive was the playcalling. It looked a little more imaginative and more aggressive. Allen had a run, Travis Bennjamin had a run and even Derek Watt broke off a 17-yard run. I thought they had some great receiver sets that I don't recall seeing before (probably because the Chargers never score), including having Allen and Hunter Henry lined up to the left for Allen's second score of the afternoon. It was also nice to see Mike Williams make some catches, including a solid 13-yard grab covered fairly well. He needs to stay involved and can be a massive spark when finally let loose (we hope).
And boy, I can't be the only one who was happy when the first play of the second half, up 30 points, was an 18-yard completion to Allen. How many times have we Chargers fans been subject to running out the ball for the rest of the game and barely escaping with a win? It was nice to see them go out and try to get more points, rather than squat on a likely insurmountable lead.
I can't say one game fixes everything, but it is encouraging. I'm more excited about the playcalling, aggressiveness and the offensive line play than just the score. If the Chargers can go pedal to the floor against the Cowboys like the Eagles did on Sunday Night, then the Bolts have a darn good chance of winning.