LA Chargers News
Chargers activate first-round WR Mike Williams from PUP list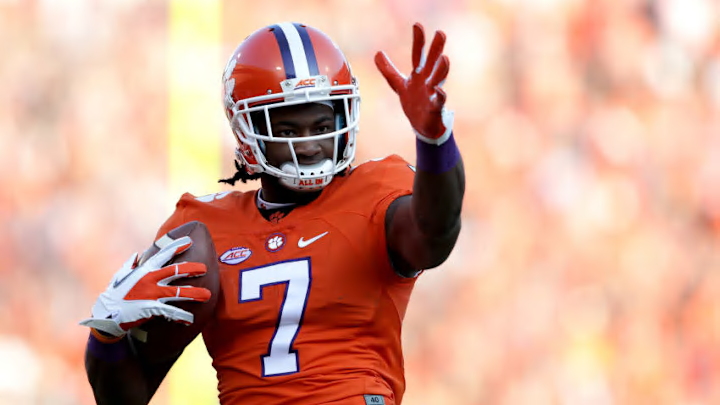 CLEMSON, SC - NOVEMBER 12: Mike Williams
The Los Angeles Chargers are confident in their first-round pick returning soon.
According to NFL Network's Ian Rapoport, the Chargers activated wide receiver Mike Williams from the physically unable to perform (PUP) list.
Source: #Chargers first round WR Mike Williams will come off PUP and be on the active roster. Big news.
— Ian Rapoport (@RapSheet) September 2, 2017
Williams, who was selected seventh overall in the 2017 NFL Draft, has been recovering from a herniated disc in his lower back, an injury that kept him out for majority of offseason workouts and all of training camp/preseason.
Williams' timetable to return was originally all over the place. He ultimately avoided back surgery and apparently didn't suffer any setbacks while rehabbing the injury. Williams was reportedly expected back sometime in October, but with the recent news, we could see the former Clemson star back on the field earlier than expected.
While it's great that Williams is ahead of schedule, the Chargers don't need to rush him back. The team is loaded at receiver with Keenan Allen, who looks like his old self after coming back from a torn ACL, Travis Benjamin, who looks like he's poised to turn things around after a disappointing first year with the Bolts, Tyrell Williams, who led the team with 1,000 receiving yards a season ago, and Dontrelle Inman, a reliable, sure-handed receiver who has built a nice rapport with quarterback Philip Rivers. Inman has been rumored to be a possible trade candidate. With Williams being activated from the PUP list, it'll be interesting to see if the Chargers deal the veteran receiver.
Overall, the addition of the 6-foot-4, 218-pound Williams makes the group of pass-catchers even more dangerous.