LA Chargers News
Chargers should allow Rivers, Gates to attend LT's HOF ceremony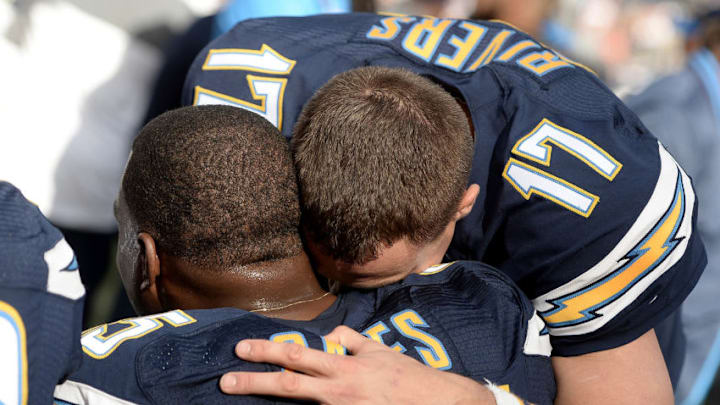 SAN DIEGO, CA - JANUARY 01: Quarterback Philip Rivers
Are the Los Angeles Chargers not allowing Philip Rivers and Antonio Gates attend LaDainian Tomlinson's Hall of Fame ceremony?
According to Sporting News' Alex Marvez, head coach Anthony Lynn and the Chargers had blocked quarterback Philip Rivers and tight end Antonio Gates from attending former Chargers running back LaDainian Tomlinson's Hall of Fame ceremony.
The ceremony is going to be held on Aug. 5 in Canton, Ohio, which is the same day the Chargers will be participating in their first training camp practice in their new stadium at the StubHub Center.
The initial story did not sit well with Chargers fans. But a later report suggested that Lynn never blocked Rivers and Gates from traveling to Canton to watch their former teammate get inducted.
"I've talked to Philip. I've talked to Antonio. I've even talked to LT. We're all on the same page," Lynn said, via USA Today. "At the end of the day, we're going to make the best decision for our football team, and that's it."
Lynn also took a jab at the initial reports.
Lynn added, "I guess you just can't believe everything you read on Twitter." https://t.co/gcLEW0GLjr
— Mike DiGiovanna (@MikeDiGiovanna) July 31, 2017
Rivers, Gates and Tomlinson all started together from 2006-09. They accomplished a lot together.
The Chargers won the AFC West title in each of those four seasons. Not only that, but Tomlinson set the single-season touchdown record (31 total touchdowns) in 2006, which was also the year the Chargers finished 14-2, the team's best record in franchise history.
Whatever the case may be, Rivers and Gates should absolutely be allowed to attend the Hall of Fame ceremony. My bet is that they will be in attendance when Tomlinson gives his speech.