LA Chargers News
Chargers' trade for Cardale Jones means no RG3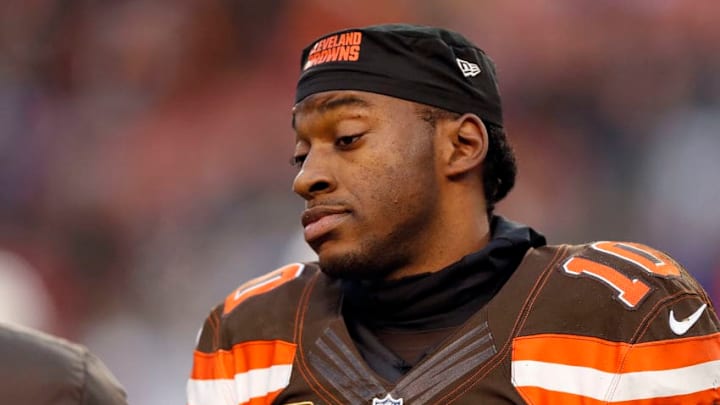 CLEVELAND, OH - DECEMBER 24: Robert Griffin III
CLEVELAND, OH – DECEMBER 24: Robert Griffin III
The Chargers worked out RG3 on Tuesday. A day later, Los Angeles signed a potential backup to quarterback Philip Rivers… just one that is not named Griffin III.
Well, if you were a fan of Robert Griffin III and thought he'd look good in a Los Angeles Chargers uniform, you can remove that image from your head.
A day after working out Griffin III, the Chargers traded a late-round draft pick to Buffalo in exchange for QB Cardale Jones. Jones was a 2016 fourth-round pick who's remembered as the No. 3 QB that helped lead Ohio State to a National Championship in 2015.
Griffin III reportedly had a good workout with the Chargers. The No. 2 overall pick in the 2012 NFL Draft, Griffin III last played for the Cleveland Browns, where he went 1-4 as a starter last season.
Griffin III's career started off strong, as he led the Washington Redskins, the team that drafted him, to a division title his rookie year. His career has since been derailed by injuries. Maybe the Chargers only brought Griffin III in to give him a sliver of hope then crush his dreams since Cleveland's one and only win in 2016 came against the Chargers (that would be some cold-hearted Punisher s**t). On a serious note, Griffin III may have been used as leverage in getting Jones, per Pro Football Talk's Mike Florio..
As for Jones, his size (6-foot-5, 250 pounds) and potential are intriguing. He's known to have a big arm. He's also younger (24 years old) and healthy compared to the 27-year-old and injury-prone Griffin III. It was an easy decision for the Chargers, and one that could pay dividends if Jones can develop into a good quarterback down the road.
Anthony Lynn, Jones' offensive coordinator in Buffalo, likely believes he can do just that.