LA Chargers News
Behind Enemy Lines: Houston Texans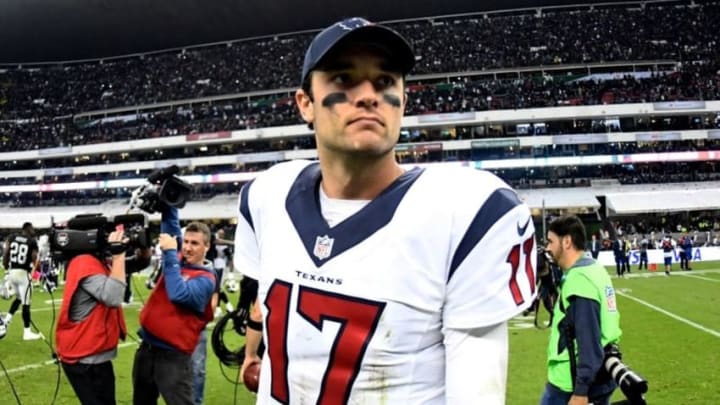 Nov 21, 2016; Mexico City, MEX; Houston Texans quarterback Brock Osweiler (17) reacts after a NFL International Series game against the Oakland Raiders at Estadio Azteca. The Raiders defeated the Texans 27-20. Mandatory Credit: Kirby Lee-USA TODAY Sports
The San Diego Chargers will play a crucial game with the Houston Texans on Sunday, and to gain more insight into that matchup, I spoke with Josh McSwain of Toro Times. Below is a Q&A that I conducted with him.
To read my answers to the questions he asked me, click here.
Q: The Texans seemed to be on the wrong end of some terrible calls last Monday night. What must the team do in this game to get that sour taste out of its mouth?
A: "Honestly, win. I'm not sure what else these is you can say. The play of Brock Osweiler has been heavily criticized all year, but he did his part to get the win on Monday night. The failure lied with the coaching staff for not making adjustments on defense to cover the running backs of the Raiders and questionable play calling and clock management. The only one of the calls that people complained about that I majorly disagreed with were the third and fourth downs late in the game that looked like pretty clear conversions to me."
My Take: Though I also disagreed with the touchdown that Deandre Hopkins scored by tight-roping the sideline in the first quarter, which he was jipped out of, that's neither here nor there. I suppose that winning is the only ailment after a loss like that. Let's hope it's not this week where they get it, right?