LA Chargers News
Joey Bosa rejects San Diego Chargers' best offer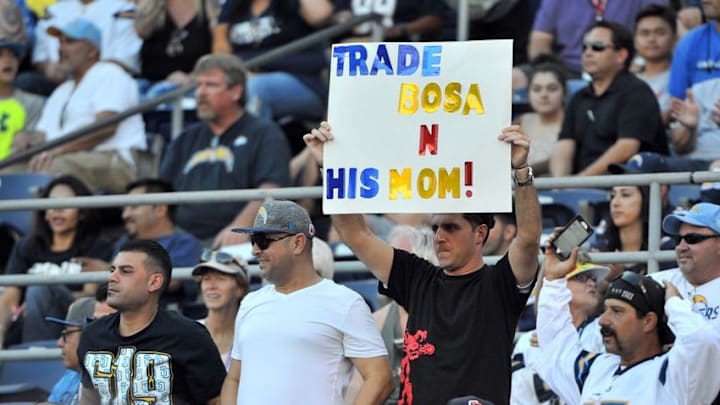 Aug 19, 2016; San Diego, CA, USA; A fan holds up a sign in reference to San Diego Chargers linebacker Joey Bosa (99) during the first quarter of the game against the Arizona Cardinals at Qualcomm Stadium. Mandatory Credit: Orlando Ramirez-USA TODAY Sports
The San Diego Chargers sent in their best contract offer to unsigned first-round pick Joey Bosa, and it was rejected.
We were expecting a little bit of news on Joey Bosa coming soon, but this is some news that we didn't want to hear. This is just crap! Bosa just rejected the Chargers' best contract offer. The little talk that they have done, they are still stuck on this little contract dispute OVER PEANUTS!
Here is what San Diego Union-Tribune's Michael Gehlken posted on Twitter:
Chargers proposed to Joey Bosa what they made clear is their best offer, source says. It was declined. Offer pulled. Two sides are nowhere.
— Michael Gehlken (@sdutGehlken) August 24, 2016
CURSE WORDS!!!
Both sides are at fault. Both sides are stupid and stubborn. Nobody is winning anything with this dispute and we are all ANNOYED AS HELL! The fans are the biggest losers on this! Thanks Chargers!
The private jet is on the way back from Florida, and based off that news, it will not have Bosa in it. It is just a private jet that was there to chill.
I guess we will have to just pretend like Bosa is not an option on the roster because of this stupid dispute and deal with the other options at defensive end. That is the only way we can look at it at this point. Get ready to see Darius Philon as the starting defensive end on opening day when we go up against the Kansas City Chiefs. Now the question is… will Joey Bosa ever put on a Chargers jersey?
If the Chargers' best offer was rejected, then we will be waiting for Bosa to finally step back up and join the squad. The Chargers will hold their ground and the ball is in his court.
Screw it all… let's ball out with the players we have!
UPDATE: 
Here is the statement via the Chargers:
Statement from the San Diego Chargers on defensive end Joey Bosa. pic.twitter.com/BayBGeN22x
— San Diego Chargers (@Chargers) August 24, 2016
And here is more detailed information from former Charger Nick Hardwick:
Offer to Bosa included 85% Signing Bonus paid this yr. 15% deferred. Most cash paid this yr other than Wentz. -per team source
— Nick Hardwick (@hardwina) August 24, 2016