LA Chargers News
How far has Jerry Attaochu fallen on the Chargers depth chart?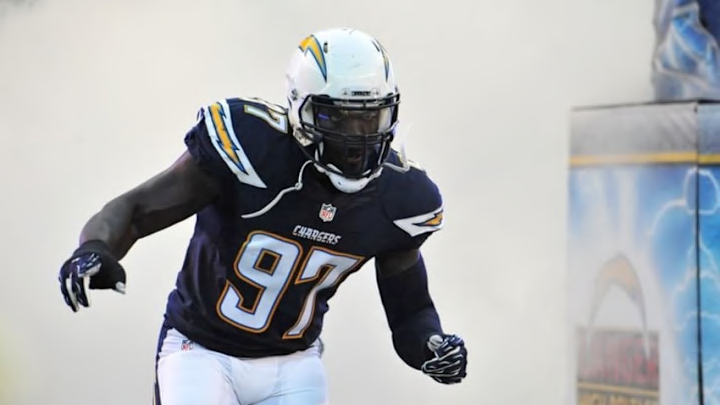 Aug 13, 2015; San Diego, CA, USA; San Diego Chargers outside linebacker Jeremiah Attaochu (97) runs out of the tunnel before a preseason NFL football game against the Dallas Cowboys at Qualcomm Stadium. The Chargers won 17-7. Mandatory Credit: Orlando Ramirez-USA TODAY Sports
Is Jerry Attaochu in the Chargers dog house? 
How far has Jerry Attaochu fallen down the depth chart for the San Diego Chargers? Where is he at? Will he make an impact on defense this year?
After finishing last season with 6 sacks, we thought that Attaochu would come into this season with some fire and passion. We thought he was going to add more sacks on his stat line. We thought he would make the leap like Melvin Ingram. We thought he would become a prolific pass rusher on this defense.
Instead he is playing in the 4th quarter of the first preseason game! Instead he is coming out of the first preseason game with nothing on the stat sheet.
The latest depth chart was released by the Chargers and Kyle Emanuel is listed as the starter on the defense now. We have high hopes for Emanuel, but we didn't know that Attaochu would slip.
What happened to the guy that we thought could make an impact on our pass rush game? Did he come into camp in poor shape or did Kyle Emanuel just make the jump that we were hoping for on defense?
This will be something that we watch throughout the preseason. Week 2 is coming up and Attaochu should see some significant time on the field again. We just need to see him making an impact of some sort.
The San Diego Chargers were hoping to have a much better pass rush this season, but it seems like their starting outside linebacker has not lived up to the expectations and their number 3 selection is still waiting to get his first paycheck. What are we going to see from this pass defense now?
What do you think happened to Attaochu? Will he get back his starting spot with the Chargers?