LA Chargers News
Memory Lane: San Diego Chargers vs. Tennessee Titans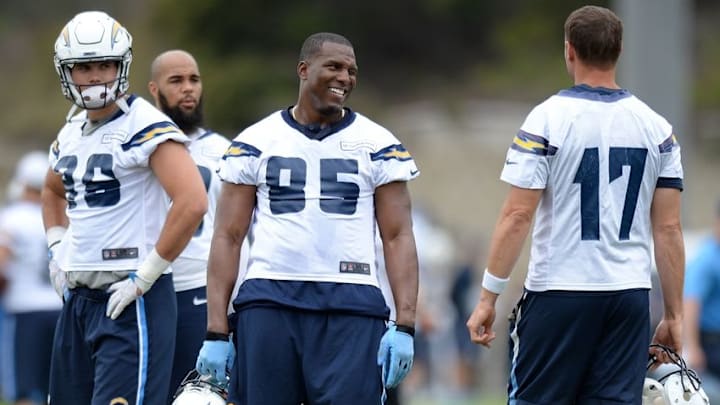 Jun 14, 2016; San Diego, CA, USA; San Diego Chargers tight end Jeff Cumberland (85) smiles as he talks with quarterback Philip Rivers (17) as tight end Hunter Henry (left) looks on during minicamp at Charger Park. Mandatory Credit: Jake Roth-USA TODAY Sports
Jun 14, 2016; Nashville, TN, USA; Tennessee Titans quarter back Marcus Mariota (8) passes the ball during mini camp practice at Saint Thomas Sports Park. Mandatory Credit: Jim Brown-USA TODAY Sports
The San Diego Chargers are on the road for their first preseason game of the year against the Tennessee Titans. There hasn't been too much of a history as of late between these two teams as the Chargers and Titans have only squared off two times in the last four years.
The last time they played each other was in Tennessee in September 2013, where Jake Locker led a dramatic come-from-behind drive to defeat the Chargers, 20-17. The former Washington Huskie quarterback completed seven passes to six different receivers for the 94-yard game-winning drive. The final blow came with 15 seconds left in the fourth quarter: Locker threw a 34-yard touchdown pass to then rookie Justin Hunter, which sealed the victory for the Titans.
After the loss to the Titans, the Bolts fell to 1-2 in Mike McCoy's inaugural year as San Diego's head coach. This game was a perfect depiction of a typical San Diego Chargers game.
The Chargers were ravaged by injuries and without starters D.J. Fluker, Malcom Floyd and Shareece Wright. Donald Butler was limited in the game because of a groin injury, and Chad Rinehart, the Chargers' starting right guard, hurt his foot in the first half and was unable to return. Despite being decimated with injuries, the Chargers led most of the game until the final seconds in the fourth  quarter, which has been a reoccurring theme in McCoy's tenure as head coach.
A lot has changed over the past two years for Tennessee. The Titans have a totally different look, with a new head coach (Mike Mularkey), new signal caller (Marcus Mariota) and a power running game (DeMarco Murray/Derrick Henry). On the other hand, San Diego is more or less the same team the Titans faced a couple of years back. It has taken seven months, but the Chargers are finally back on the field Saturday in a semi-meaningful game. All fans can hope for is that the starters get in, produce, and get out with their health intact.