Chargers Draft
Chargers Take DE Joey Bosa With First Pick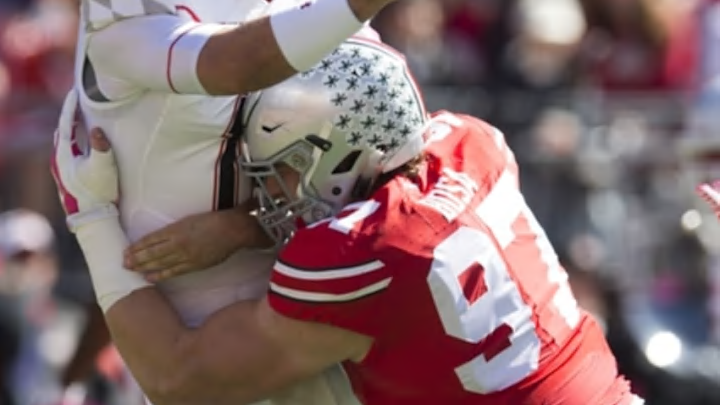 Oct 10, 2015; Columbus, OH, USA; Maryland Terrapins quarterback Perry Hills (11) is hit by Ohio State Buckeyes defensive lineman Joey Bosa (97) at Ohio Stadium. Mandatory Credit: Greg Bartram-USA TODAY Sports
The Chargers have made their selection.
With the No. 3 overall pick, San Diego went with Ohio State defensive end Joey Bosa.
Bosa was one of the top edge rushers in the draft. It's an interesting pick considering they passed up top safety Jalen Ramsey and defensive lineman DeForest Buckner, who was deemed a perfect fit for the Chargers.
Bosa's production clearly stood out to general manager Tom Telesco. He finished with 148 tackles, 51 tackles for a loss, 26 sacks and five forced fumbles over his three-year career.
Pro Football Focus rated him the No. 1 edge rusher in this year's draft, saying he was both a dominant pass rusher and run defender.
Bosa weighs in at 6-foot-5 and 269 pounds, so whether he was drafted to be a defensive end or outside linebacker is still a mystery. Defensive end was a big need, and even though Bosa is a talented player, he would have to gain some weight to play the aforementioned position.
Here's NFL draft analyst Mike Mayock's opinion on the selection:
*Understand that the Chargers' base defense is a 3-4 front. Most people thought that Bosa would go to a 3-4 team. I've seen Bosa stand up and play in space, and he can do that. His playing style is most reminiscent of Everson Griffen of the Vikings."