LA Chargers News
Chargers add speedy WR Travis Benjamin in free agency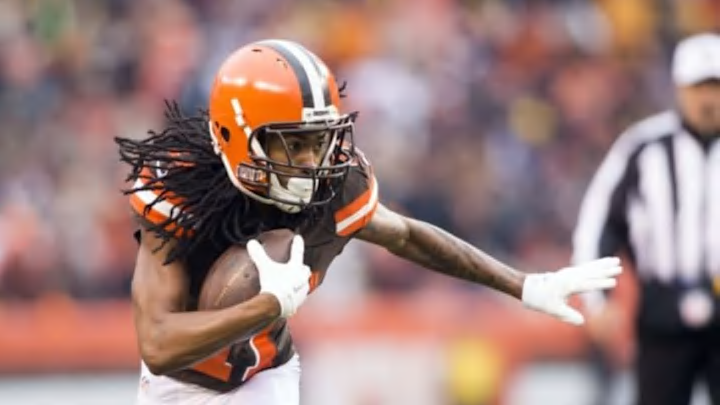 Jan 3, 2016, Cleveland, OH, USA; Cleveland Browns wide receiver Travis Benjamin (11) runs the ball during the first quarter against the Pittsburgh Steelers at FirstEnergy Stadium. Mandatory Credit: Scott R. Galvin-USA TODAY Sports
The San Diego Chargers were quiet for the last few days, but on the first day that teams were able to sign players, the team surprised with the signing of former Cleveland Browns WR Travis Benjamin. Tom Telesco likes to keep his business quiet and would rather work on those deals instead of making a spectacle out of it.
The team has been looking to add some speed on offense after Malcom Floyd retired and they immediately added one of the top speed threats in free agency. Benjamin will give the team a threat to go over the top of a defense on every play. He will keep the safeties back and will let Antonio Gates and Keenan Allen tear it up in the intermediate and short passing attack.
This should get a little more breathing room for the running game as well. Instead of safeties hanging out in the box, they will have to worry about Benjamin's ability to go over the top and could give Melvin Gordon a little more breathing room in his runs.
Another addition in Benjamin's game will be on special teams. Telesco tried to fix his issues with speed and special teams with Jacoby Jones in free agency last year, but that was a flop. This time he went with a younger model. We will see how this signing will work out, but at least we will be going with a model that has some good years looking ahead of him. Benjamin is coming off of his best season as a pro and will now get Philip Rivers to toss him the rock on offense.
Benjamin will be the deep threat on the team and some fans will wonder how Philip Rivers will be able to sling the ball down the field. Last time the team signed a deep threat, we struggled to get him the ball. Robert Meachem was never able to get separation and never played well with the Chargers. How will Benjamin do in the Chargers offense.
Ken Whisenhunt will have the fun task of getting him opportunities. I think Philip Rivers will find a way to get him the football and he will be a great threat for this offense.