LA Chargers News
San Diego Chargers release Donald Butler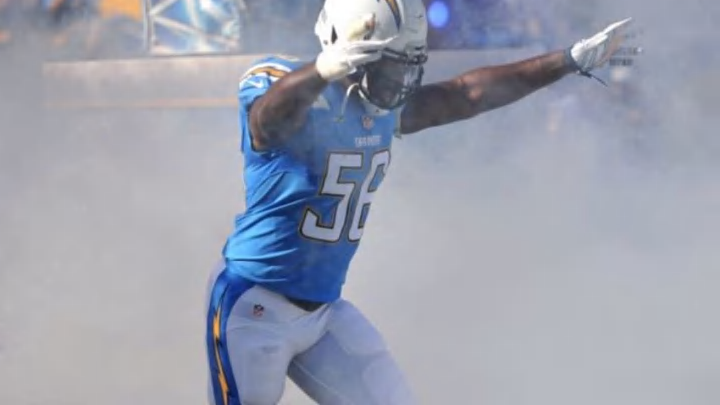 Nov 22, 2015; San Diego, CA, USA; San Diego Chargers inside linebacker Donald Butler (56) runs onto the field before the game against the Kansas City Chiefs at Qualcomm Stadium. Kansas City won 33-3. Mandatory Credit: Orlando Ramirez-USA TODAY Sports
The San Diego Chargers released LB Donald Butler today. Butler signed a new  deal a couple of seasons ago and was not living up to his deal. He saw himself slide deeper and deeper down the depth chart, while Denzel Perryman became a star in the making in the middle of the defense.
#Chargers valued Donald Butler, but they believe LB Denzel Perryman came in last year and changed their defense. Star in the making.
— Ian Rapoport (@RapSheet) March 3, 2016
The extra money that the team will save on his contract can be spent on some other defensive players to add onto the roster. The team needs help at the safety position and also needs help on the defensive front.
Butler had been a disappointment since signing his new deal.
We all saw that this release was coming. Butler lost his starting job and barely showed any effort when he was on the field with the Chargers starting defense.
The future looks bright at the position with the young players on the team. We just hope that we can fill out the rest of the defense by grabbing some solid defensive line players and a couple of solid safeties.
Who else will get released off of the roster? Will the team finally release the other Donald off of the roster to free up that money that is there? Trevor Robinson needs to be released and sadly Mike Scifres has to be released as well.
Here is more information on how he affects the cap:
Chargers released Donald Butler without post-June 1 designation. For salary cap, he counts $6.69M in 2016 dead money. Off books in 2017.
— Michael Gehlken (@sdutGehlken) March 3, 2016
He will be $6.69 million in dead money this year, but he will be completely off of the books for next year. Too bad he will be taking $6.69 million, since we could use that money on some solid players to add onto the roster.