LA Chargers News
Chargers free agent target: Tashaun Gipson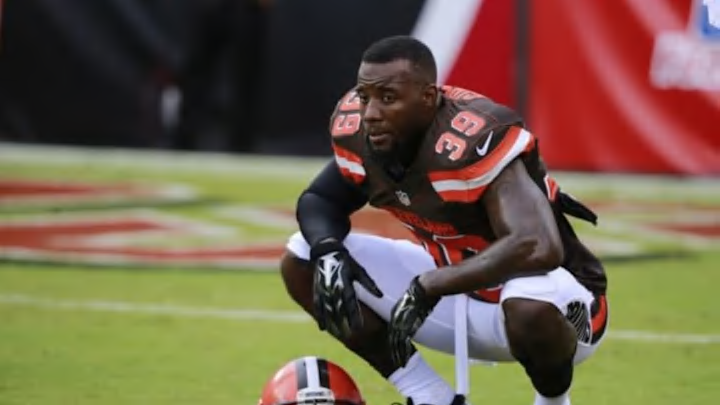 Aug 29, 2015; Tampa, FL, USA;Cleveland Browns free safety Tashaun Gipson (39) works out prior to the game at Raymond James Stadium. Mandatory Credit: Kim Klement-USA TODAY Sports
The San Diego Chargers need to find someone to fill the spot at the free safety position in the offseason after they let Eric Weddle walk away. A name that fans and analysts have brought up a number of times is Cleveland Browns free agent FS Tashaun Gipson. Gipson doesn't seem to be in the plans for the Browns in the future, so he will get to test out free agency.
The Chargers need to have Gipson on their radar. With all the issues this team has on the roster, they have to find replacements for the solid players that they already had on the roster. Gipson would be a solid addition to the team and we wouldn't be missing out on much from Weddle's transition to a new roster.
Gipson is only 25 years old and already has made it into the Pro Bowl. There will be a number of teams that will be hoping to bring him on, but the opportunity to work with a young up and coming defense could be something that Gipson looks forward to. Gipson and Jason Verrett would lead the secondary with all the youngsters up front looking to beat up on the quarterback. We could have a pair of new safeties going into the next season and Gipson would be a very good addition to that defense.
Gipson is a young ball hawk. He will get his hands on the football and will make some big time plays. We need to force more turnovers this year and Gipson would be a player that could help the team immediately in that department.