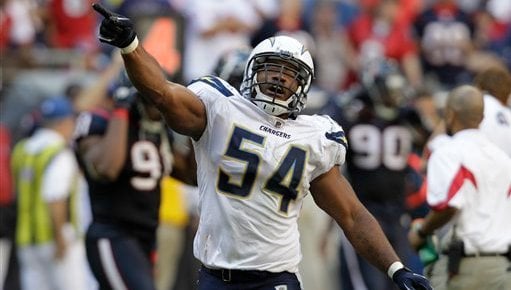 Was running though Kevin Acee's mailbag and ran into this little nugget about starting LB Stephen Cooper:
… The No.1 priority is Weddle, and they will make a run at Burnett … I know what I've expressed in the past, and anyone who has read/listened to me over the past several years knows how I love the guy. But I'll say it here first: I think Cooper's time in San Diego is done.
Coop did a great job in the middle of the defense making the play calls. He is gritty and finds ways to get the job done, but it looks like his days as a San Diego Charger are winding down. Former Charger defensive coordinator, Ron Rivera, probably has a lot of interest in bringing Cooper over to Carolina to run the defense.
The Chargers drafted Donald Butler last year in the 3rd round and the team is really high on his potential. Butler missed all of last season with an achilles injury and will get a good opportunity to play next season.
It would be nice to see the Chargers go after one of the free agents that have some connections with San Diego. Takeo Spikes is a free agent and played under Chargers defensive coordinator, Greg Manusky, in San Francisco. Spikes is a tackling machine and he will be very familiar with the defensive scheme that Manusky will run. Former SDSU Aztec, Kirk Morrison, is another solid option. Morrison will be looking for a team that can get him into the playoffs. Morrison has never made it into the playoffs in his 7 seasons.
Tags: Stephen Cooper